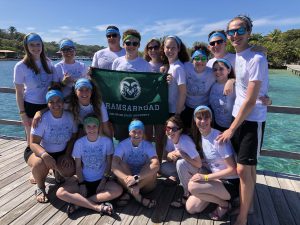 Today was our last full day at Anthony's Key Resort – and it began like the other days … with data collection at 6:30 AM! We started by collecting space-use data and then made observations while Kathleen recorded the dolphins from underwater.
Alyssa – It was really nice to work with Shane and Kathleen on our projects because I learned lots about developing a research project. Dory is my favorite RIMS dolphin because she's a goof!
Emma – I think it was nice to talk to Kathleen and Shane about our projects – we did not have to but we could ask questions to refine our projects. I liked taking observations today because the dolphins were super active and it was more fun! Tank is my favorite dolphin because his personality shines through.
Sydney – Today was a really good relaxing day but I'm sorry it is our last full day. I'm gonna miss it. Carmella is my favorite dolphin because she is sweet and you can see her personality is more aloof – she's not as in your face playful.
Ashley – I'm really sad this is our last day. I really enjoyed the whole week and learned so much about dolphins, and about Kathleen's research. And, my favorite dolphin is Tank because he's very playful and it's been fun watching him try to figure everything out as a youngster.
Hannah – today was really relaxing and it was nice to have time to get used to the fact that we are leaving tomorrow. We had time to soak in the sun and work on our papers. Calli is my favorite dolphin – she's super sweet and likes to 'talk,' even though her jaw is funky.
Sarah – I really liked doing the observations during the swim today because it was something new and it was interesting to see how the dolphins acted during that activity. Calli is my favorite dolphin too. Because she is sweet and has a funky jaw, which I can relate to.
Zach – after this being the 6th day of observing dolphins, I thought I'd be numb to the feeling of amazement but I'm not and I crave more. It shows how amazing this trip was to me. My favorite dolphin is Carmella – even though we don't see her often, I got to talk to her trainer and learned that how she treats Stan, who is her brooding teenage son.
Emily – I really liked having time to talk to everyone and to Kathleen and Shane and to take in all the amazing things of the week. When we were in the water today, the time feels like it went slow and we are all pretty close and it was nice to take it in and review. Dory is my favorite dolphin because she brought me a leaf and I assume she wanted me to take the leaf and I would have played with her but I was collecting data …
Cole – I have no complaints – any day the sun is shining and we get to hang out with dolphins and to share it with these new friends is a great day. Tank is my favorite dolphin because he is scrappy and likes to pick fights (sort of).
Morgan – This whole week has been great because I've enjoyed getting to know everyone and bouncing ideas off of everyone. It was a once in a lifetime opportunity to work with Shane, Kathleen, and these animals. Carmella is my favorite because she's a really great mom and very chill and calm.
Brooke – I enjoyed today reflecting on this once in a lifetime experience – not sure I'll get this close to a group of people again as I did here. My favorite is Tilly's calf (baby fluke) and I feel connected to her.
Katie – my favorite part of this trip was meeting some really great people with strong passions in life and their willingness to be open and communicate with others. My favorite dolphin is French (Frenchie-boy is what I call him). Because he is the sweetest adult male in the enclosure and goes with the flow, which I can relate to.
Mel – I really liked yesterday and today talking with Shane and Kathleen and challenging my brain with different ways of thinking. It altered the way I look at things a little bit. It was difficult but I enjoyed it. Gracie is my favorite dolphin – she is very sweet and gave me a salty kiss during our encounter.
Caleb – I thought it was kind of cool to see everyone get super close. And, it was neat to see the progress with the research and how we are recording the data. It is almost second nature for space use data collection and activity levels. Tilly and Gracie are equally my favorite dolphins – I like their names and I got to meet Gracie during the encounter, which was fun.
Jeanie – I'm super grateful to have been able to become a water creature with both the dolphins and humans. And it was also really cool to see how ideas can develop really fast even if we are not sure about them to start. My favorite dolphin is Alita because she is very pretty and she does not really like people either.
Today was a good wrap-up day that also had data collection. Tomorrow is our last early AM data collection session and observations with the dolphins. You can see us all at Bailey's Key in the front photo wearing our Rams Rash Guards and our DCP hoorags!
Cheers
Rams in Roatan & Kathleen