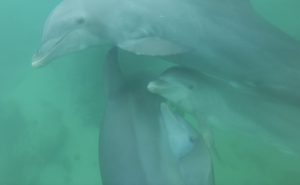 We did another morning observation session and two space-use data collection sessions: one as baseline and one set associated with Kathleen's data collection. The dolphins were really active and rambunctious this morning. There was LOTS of surface activity and we saw all the dolphins. New year – New activities!
Another bomb-breakfast followed our morning with the dolphins. Then, we went to the RIMS classroom for a lecture the Marine Mammal Protection Act and animal welfare and permitting for research. It was interesting to learn about the details of the MMPA and how complicated the process of permitting can be. It was also nice to know there are many groups looking out for the well-being of these animals and that it is a federal law.
We departed from our routine and watched the video before lunch – we are getting better at recognizing the individual dolphins, which is a good thing because our encounter and swims were this afternoon.
The next entries represent our individual impressions.
Emily – I thought it was lots of fun to play fetch with the dolphins.
Emma – I think it was really cool to see the dolphins from our own point of view in the water as opposed to from videos and to identify them in person.
Caleb – I liked kissing the dolphin (Gracie!).
Morgan – I have a lot of respect for Kathleen underwater to not freak out when 18 dolphins are in the water with her and there is little visibility, and being able to identify them in a split second.
Alyssa – I know dolphins are smart but playing fetch with them and having the dolphins bring the grass back to the same throwed impressed me.
Mel – I really enjoyed hearing from the trainers and getting their perspective and how they go about their day-to-day job.
Sarah – I thought it was cool to see the dolphins and their personalities up close after having watched them on the videos for several days.
Katie – I thought the dolphin interaction with each specific trainer was neat and that the dolphin knew what the trainer was asking or saying was cool.
Sydney – watching the dolphin trainers was cool as their job is my dream job so watching the interaction and the relationship was very interesting to me.
Cole – I enjoyed having one-on-one time with the trainers and Kathleen and learning about the dolphins and their (the dolphins') gossipy world was very cool.
Ashley – My encounter was with Tank and since he is a younger dolphin it was interesting watching him work with his trainer since he's learning behaviors. There was definitely some attitude and personality. It was neat to see Tank in his environment after watching the videos.
Zach – it was good to finally accept my gift of seaweed from Gracie.
Brooke – I got to see the calf during the snorkel, which was amazing. It was really fun watching Tilly's and Calli's trainers work with each of them – the dolphins have different personalities but they are similar to their trainers.
Jeanie – I thought it was cool to hear their individual sounds and having no perspective of where the sounds were coming from was interesting.
Hannah – I thought it was cool and funny to see Tank for our encounter and to see the relationship between Dante and Tank was very neat. Their relationship is very strong and looks like it was developed well.
Tonight is a Fiesta Celebration on the key for dinner … followed by a well-deserved evening siesta. Tomorrow begins another data collection with a meet at 6:15 at the taxi dock!!
Cheers,
The Rams in Roatan & Kathleen
P.S. at the fiesta night, we had among us the Limbo Queen – Morgan! Well done!