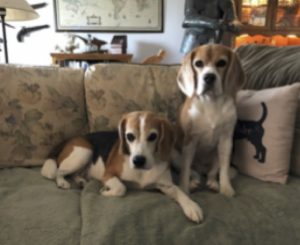 Friday was spent packing gear, making sure the cameras (AX100 and GoPros) were packed with the batteries and cards. I had all the data sheets and field binder set and also the DCP 20th Anniversary treats! (Can you believe DCP turns 20 this coming year?!) Of course, as I packed gear, bathing suits, wetsuit, clothing, mask, fins and snorkel and other tidbits, Dixie and Baloo shifted between being nosy and trying to add their toys to the cases with giving me the cold shoulder versus sitting in judgement of me! This photo shows the latter.
I gave them both big hugs (and a biscuit!) and they seemed to be ok with the fact that I'd be heading out to observe dolphins again and teaching students!
My flight is out of Miami tomorrow and the CSU students join me from Colorado via Dallas. The temps on Roatan will be warmer for the students but about the same for me.
More tomorrow after arrival!
Cheers,
Kathleen