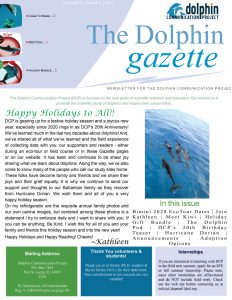 2019 is nearly over! As we reflect on our gratitude for all your support, you can check out new opportunities to join DCP that are right around the corner.
Plus, meet DCP's newest named dolphin – Kiwi, check out holiday gift ideas, help folks in The Bahamas & learn about our recent & upcoming publications & presentations.
This issue of the Dolphin Gazette is perfect for reading by the fire or under a palm tree, depending on where you live!
Thanks for reading – and sharing!