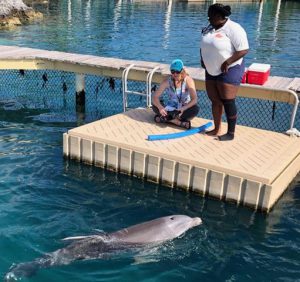 On Wednesday, we were able to conduct 4 sessions each with Ludwig and Zig for the delay gratification early training (to assess preference between the circle and star) and we also were able to get 3 sessions with Finn. It was a productive day and in this photo, you can see Heather and Te-Shalla setting up for a session with Ludwig. Both Zig and Ludwig are showing a side bias in their selection of the symbols, even though they both switched sides between sessions! Finn was new to this research and at the end of his first session decided to make both Heather and Te-Shalla wet with a high breach! We also collected several 5-min respiration samples of Bella, Laguna, Abaco, Missy, Soca, Aunty V, and Treasure. We spent quite a bit of time in the vey sunny day and are pleasingly tired tonight!
Here's to another productive day tomorrow!
Cheers
Kathleen & Heather
P.S. we made a paradigm shift in our research today from use of primary (fish) reinforcement to use of secondary reinforcers that are items that dolphins learned to like (e.g., balls or noodles and rubdowns) to focus on a positive learning experience. That is, because the dolphins always know they will receive their diet we needed to remove focus on food and look at learning by the dolphins from their perspective. This is why we shifted to use of secondary reinforcers as a positive step toward understanding dolphins choices on a little versus a lot from secondary reinforcers.