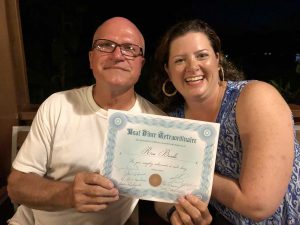 This morning had our group at the water taxi stand at 6:15 AM for our last data collection session. The underwater visibility held out! (Hurray!) I was able to collect another 40 min of underwater video and the dolphins were vocal and social. Bailey had Tank with her often and Alita had Dory in infant position and they shared some tactile exchanges, too.
Our divers had their last dive this morning, also – they joined Jennifer, Director of Education here at RIMS/AKR, to clean algae off the coral trees that are being grown to repopulate some of the coral reef areas. They were able to get half a dozen "trees" cleaned!
We went over to Bailey's Key in the afternoon to see the dolphins one last time and to thank the trainers for their time and attention this week. And, before dinner we shared some of our video with the participants and other guests to the resort. It was a good (very good) day!
Jill and Ron B extended their friendly comradery with congratulatory certificates and cards. Jill completed her Advanced Open Water diver certificate this week and shared several dives with Ron and others in our group.
We travel home tomorrow … but this week yielded about 7 hours of video data, several sessions of respiration/surfacing data, and several sessions of spatial use data collection. Thank you to all of our eco-tour participants! It was a very productive week!
Cheers
Kathleen & the 2019 DCP Eco-tour team