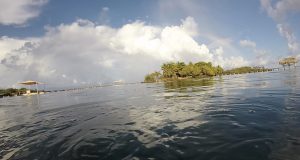 Our morning session was delayed about 30 minutes due to an early morning thunder and lightning show. Thankfully, the squall passed quickly, though today would be peppered by squalls. The photo shows a quick view from the water (when no dolphins were in view underwater!) of Bailey's Key, the clouds and a rainbow! The underwater visibility was not great – we had about 3 m of silty underwater viewing. Still, the dolphins were playful and curious. Stan, Tank and Dory loved my fins today … Gracie played with a sea grape tree leaf, and tried to entice me to play.
Many in our eco-tour group did three dives today and spent lunch at Maya Key between the second and third dives. They came back with stories of sea horses, sea turtles, and other fun marine critters viewed! Tomorrow night is their night dive, though I'm not sure how many folks will be donning gear in the evening!
The few of us who stayed back collected more surface observational data of dolphin respirations versus surfacings – most were breaths! All in all, it was a great day!
Until tomorrow …
Cheers
Kathleen and the 2019 DCP Eco-tour team