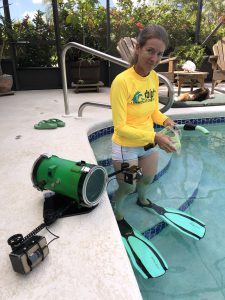 The DCP 2019 Eco-tour to Anthony's Key Resort (AKR) and The Roatan Institute for Marine Science (RIMS) begins tomorrow. Hurray! The bags are finally packed and we depart before the sun rises tomorrow … at least for the airport, our flight is a bit later than that!
This trip has me using a modified MVA4. In this blog's photo, you can see me water testing the system in the pool. You can see that Dixie is not at all interested in the MVA4 or me when we made sure water stayed outside the housing!
The hydrophones are now connected through the housing side wall as "wet pluggable," which means we can detach them completely from the MVA4 housing for travel to and from the field. John also made some slight modifications to the camera tray so the higher-resolution camera fits better in the housing – and I can actually see what I'm recording. We also have a new front plate and a new top mount for the GoPro.
Of course, we also touched up the green paint and some of the black edging. The system looks spiffy – almost like new, even though the MVA4 is 15 years old!
Stay tuned for more updates from the DCP Eco-tour group during the next week – we have several research projects for which we're collecting data. I'll update you as the week commences and continues!
Cheers
Kathleen (& Dixie!)