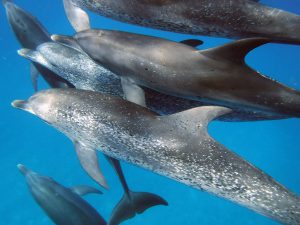 On Wednesday (Happy Independence Day, Bahamas!), the day began with a light breakfast for Nat & Taylor at my house. There was just enough time to touch base before helping them get their suitcases to the ferry dock – they headed back to Florida today. It's been a pleasure working with these interns and DCP got more done this summer thanks to them. And, they were even able to squeeze in a quick beach clean-up this morning; how great are they?!
After they headed out, I got myself back into solo researcher-mode as the dolphin trip was leaving at 1400. Though I'd met this week's guests earlier, during the camera and photo-ID intros I led, it was my first time joining them for a dolphin search. They were alert and eager, but first: a snorkel stop at 3 Sisters. We didn't have to wait long after the snorkel to find dolphins; they made themselves known with lots of splashing at the surface. It was a large group and they were on the move. They were somewhat spread out, so a group count was challenging, but there were at least 32 Atlantic spotted dolphins. Throughout the afternoon we had several opportunities to watch the surface activity and bow riding as well as observe them underwater. We made note of Cerra (#38), Niecey (#48) and Stefran (#82), all with calves, Split Jaw (#22), Prince William (#64), Speedy (#78), Paul (#99), Sulfur (#102), "Lamda" (#104, pictured here. He has some new scratches on his other side, but he'll be just fine)
Back on land, it was camera rinsing, battery charging and emails. We'll see what tomorrow brings!
Until then,
Kel