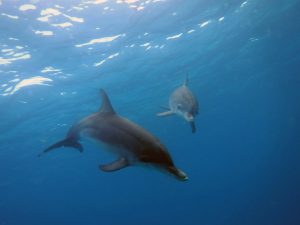 Tuesday was another great day out at sea! In the morning, Taylor and I continued our office work with some photo sorting, then right after lunch we met Kel at the Sea Crest to inventory the highly fashionable DCP shirts, tanks and rashguards. I couldn't help myself and bought a bright green rash guard shirt with the DCP logo on the front. I wear it in the water whenever we snorkel with the dolphins and I absolutely love it. Taylor couldn't resist either and got same one in bright yellow! We love representing DCP onboard Renegade!
After the inventory we set out around 2:00 to search for dolphins. We made a snorkel stop at Bimini Road so everyone could see the famed "road to Atlantis." It is a great spot, but Taylor and I had already snorkeled there before, so we decided to skip the real snorkel site and have our own fun swimming around the boat (It doesn't sound as much fun, but to us it was nice!). Everyone was soon back aboard the boat, and we continued our expedition to look for those dorsal fins. It wasn't too long until we came across three spotted dolphins. Romeo (#10), Swoosh (#36) and Vee (#101) (yes! Romeo & Swoosh were together again) hung around the boat for a while until we were ready to try an encounter. Everyone was able to swim with these three for a little while, but then they seemed to move away. We decided to have some snacks on the boat while we looked for other dolphins. It wasn't long until Romeo, Vee, and Swoosh led us to another group of spotted dolphins! Now there were about eight dolphins around the boat. Leslie (#80), Tina's calf #121, and #114 was among the new dolphins we saw that afternoon. Kel thinks Tina is starting to give her calf some space because although we saw Tina's calf, we didn't see Tina (though, maybe we'll notice her on video or in still photos). Time for the little calf to start learning on his own! We had another encounter with these dolphins, during which Tina's calf was very active. He was swimming all around us! Soon it was time to say goodbye to the dolphins and head back home. It was then leftovers for dinner, wait for the power to come back on, and a quick lights out for Taylor and me so we can do it all again the next day!
Until next time, cheers!
-Nat and Taylor
PS: Remember – time is running out to grab a spot on our August 2019 ecotour. Click here for more info! We it's short notice, but…..oh, it's going to be amazing!