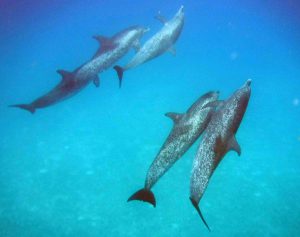 Sunday marked the end to our boat trip hiatus! It has been a long 11 days of island life filled with photo sorting, video logs, and power outages. Taylor and I were super excited to meet the guests for the DCP eco-tour, done in collaboration with Bimini Adventures, for their orientation at the Sea Crest. I was so excited to see Bill, Ron, and John, all of whom I had the pleasure of knowing and meeting on the Roatan eco-tour trip this past October. It is always nice to see familiar faces!
After the Sea Crest visit, Taylor and I went straight to the docks to prepare for the dolphin expedition ahead. Soon we were on our way searching the horizon for dorsal fins. It was the prettiest day for a boat trip yet! The water was glossy smooth and you could see right to the sandy bottom. It would be easy to spot any dorsal fins today, and it wasn't long until we came across something floating in the water, but it wasn't a dolphin, it was a loggerhead sea turtle! Only something was very peculiar about this loggerhead. The turtle wasn't able to dive down. Captain Audley turned the boat around and we investigated. It was clear that this turtle was in some kind of trouble because it would have definitely swum away by then if it could. Captain Al got in contact with Kel on shore to see if any action could or should be taken. After giving the GPS coordinates to Kel, we unfortunately had to leave the loggerhead on the surface where it would hopefully be picked up by help later.
As we continued our search, it wasn't long until we came across a large group of spotted dolphins! They were scattered all over the place, probably because they were feeding. We tried a couple of encounters, but it seemed like the dolphins' minds were not in the mood to play with our guests, and they generally ignored us and swam away. There were other boats in the area trying to do dolphin swims as well, so we decided to wait in the area until things settled down and hopefully the dolphins would be in a different mood to play. It was a pleasant wait on the boat though. There were dolphins all around us! There were dolphins to the left and dolphins to the right, out in front of the bow and in the back by the stern (hence the title, thanks Bill!). So at least we got to wait with dolphins instead of by ourselves. I was still able to ID Romeo (#10), Swoosh (#36), Tina (#14), and Stefran (#82) from the surface. Later we were able to try some more encounters and I was able to see Inka (#93) in the water. Soon it was time to start heading home, but it wasn't without dolphins! We still had dolphins all around us on our way in! They weren't quite bow riding, but they would sometimes come for a quick bow ride for a few seconds then swim off.
Soon we were back and Taylor and I were invited to have dinner with the eco-tour group! Luckily we accepted because we were welcomed back to our cottage with no power! Surprise, surprise. But thankfully, we were still able to go to the Sea Crest and eat some mushroom risotto, so we didn't have to wait for the power to come back in our cottage to eat dinner. After dinner, the power was still off, but at this point I think Taylor and I are used to the island heat! Luckily the power returned right in time for bed at 11:00 so we able to have some cool air before bed!
Until next time, cheers!
-Nat and Taylor