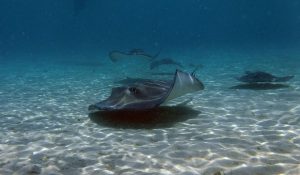 Tuesday was an unusually long day aboard Renegade. We boarded our vessel at 11:00am and we headed due South, instead of our normal course to look for dolphins. Little did we know, that today was going to be one of our busiest days consisting of three different snorkel stops and looking for dolphins at the very end. Our course was chartered for our first stop, the ray encounter, which was the furthest South. The very chaotic encounter involved a lot of friendly stingrays that seemed to love the human's presence in the water. We had the opportunity to feed the stingrays, which was my favorite part. I held the piece of shrimp out for the stingrays to see, and soon enough I was greeted by two stingrays going after the same shrimp. One stingray got there first, and vacuum suctioned the food right out of my hand. The "sea pancakes" were so smooth and slimy to touch due to the fact that they don't have bones like we do, but they are one of the most graceful creatures to watch under the surface. Pretty soon the stingrays got wise to the idea that we were out of food and moved on to the next group of people. We said "bye" to the stingrays and made our way back to Renegade to head toward our next stop.
Our second stop of the day was at Triangle Rocks, a specifically good location to see Caribbean reef sharks. These weren't little, tiny reef sharks; they were sharks of decent size that were swimming all around us. To see these sharks up close was an unbelievable sight. They were mostly there for some easy food, but some did try and check us out as well which made a great encounter. After being one with the sharks, we could snorkel near one of the rocks. It was a beautiful snorkel along the reef that was made up of sea fans. Nat and I saw a big barracuda that crossed our paths right before we headed back to the boat to look for some more sharks. Captain Kat saw a hammerhead that was below the surface among all the sharks. Nat and I didn't see, but we wished we had. Next: we headed to a shipwreck known as the Sapona.
The Sapona was another good snorkel stop – it's a massive, concrete wreck in shallow water. It's pretty deteriorated, but has a rich history and is now home to plenty of fish. Because this group missed a dolphin trip due to weather, we used the last bit of daylight after the snorkel to search for dolphins. Unfortunately, today was met with no sighting of our dolphin friends, but we enjoyed the boat ride, nonetheless. We said goodbye to the students and the professors of Manhattan and Hunter colleges because it was their last day in Bimini. Today was our last boat trip for a while, but it gives us an opportunity to catch up on the office work. Overall, the past eight boat trips aboard Renegade was our form of nirvana. We both are happiest being on a boat in the middle of the ocean looking for dolphins. More adventures ahead!
Cheers!
Taylor and Nat