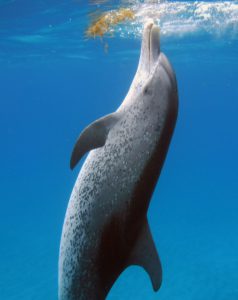 We have not been too lucky these past few days with the weather: Sunday's boat trip was canceled due to poor weather conditions. Although Taylor and I waited with our things prepared to hop aboard Renegade, the weather still remained not in our favor. We hoped the weather would improve for Monday's adventures, and although it was not perfect by any means, we were still able to find a window to search for dolphins!
In the morning, Taylor and I joined Hunter and Manhattan Colleges for their beach clean-up. It was cloudy and windy, but so far there were no thunderstorms. The wind was actually a blessing in disguise because it warded off all the sand flies that have been eating our legs alive! We cleaned the beach of Styrofoam boxes, plastic straws, bottle caps, and other plastic items and collected at least 10 trash bags full of trash! It was a very successful clean up. We love participating in these clean ups because we love to help keep at least some plastic out of the sea. Afterwards, Taylor and I peddled our bikes over to the little grocery stores, to restock for the week. On our way back home we got stuck in a torrential downpour and at first we were worried that our boat trip would be canceled again. We were supposed to depart at 1:00 to make a snorkel stop for sharks and rays, but with the thunderstorm above us, Captain Al pushed the departure time back. Taylor and I waited with our bags packed by the door for the storm to clear. Eventually, our luck changed and the storm passed! We were able to depart at 2:45 to search for dolphins. We didn't make it to the snorkel stop, but at least we were able to get out on the water.
The boat trip was definitely a bumpy ride because of some moderate swells, but nothing we couldn't handle. There was some light rain here and there, but luckily it never poured while we were looking for dolphins. After searching for a couple of hours, we finally came across a group of 8 spotted dolphins! From the surface I was able to identify Inka (#93), Romeo (#10), Swoosh (#36), and Stefran (#82). Soon we were able to try an encounter and we swam with the dolphins for a solid seven minutes. Then in a second they were gone! We got out of the water to try and find them again, and found them we did… with more dolphins! The dolphins we found previously met up with another group of spotted dolphins, and among this new group was Sulphur (#102) and Vee (#110)! Now there were about 16 + dolphins in the water. We were able to have another encounter for 14 minutes with this new group! Despite the poor weather in the beginning of the day, it turned out to be a great dolphin day. After this group of spotted dolphins left, we made our journey back home because there was another thunderstorm lurking in the distance. We made it back just in time, and later that night, sure enough, it was raining again. We had the perfect window for dolphin searching and timed it perfectly with the weather. I guess good things, or dolphins, come to those who wait!
Until next time, cheers!
-Nat and Taylor
PS: Snag one of the spots on our August 11 – 16, 2019 (yes, this summer!) ecotour. We added this session late, but we know we can get five more sign-ups. Are you one?! Click here for more info.