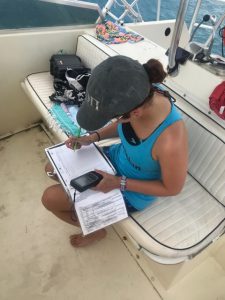 Slowly, Taylor and I are starting to get into our island routine. Wake up with the sun, do some DCP office work, hit the beach for 15 minutes because it gets too hot, then head over to the boat at the Sea Crest for dolphin expeditions. Today we joined Manhattan and Hunter Colleges again on their search for dolphins. Taylor and I sat up top so we could scan the horizon for dorsal fins. It seems our boat trips are starting to get into a routine of their own because our luck sighting dolphins has not been in our favor during the first couple hours of the trips. I scan the horizon, hoping to catch a glimpse of flukes, dorsal fins, or splashes, but there were no dolphins in the beginning of our trip.
With a creeping storm behind us, I almost gave up hope that we would be seeing dolphins today, but you really never know! And sure enough, as we were heading home with cloudy skies above us, we were able to spot four spotted dolphins! They were two mother-calf pairs. One of these pairs was Tina (#14) and her calf, un-named #121! Her calf is very distinct because of his unique dorsal fin notch (I was able to see he was a male underwater). Once I saw the calf's dorsal fin, I was quickly able to ID check Tina and find the white spot on her peduncle I remember noticing last year! Luckily, there was still time to try an encounter with the mothers and calves so we all grabbed our snorkel gear and cameras and got ready to slide into the water.
As I slowly entered the water, the two calves were immediately noticeable because they were right next to the boat. I started recording them as they swam in between and around the snorkelers. At one point they were both playing with a clump of seaweed. One would have it against their dorsal fin, then slowly brought it down to their fluke. The other calf used their rostrum to take the seaweed from the other's fluke. Needless to say, I was charmed by this cuteness overload. Tina and the other mother in the meantime were off in the distance, but eventually they got closer to their calves and we were able to see them up close as well. Soon the calves were swimming in infant position to their mothers and we got to see one calf nurse! It was so exciting to see the mother-calf pairs swimming in infant position! Definitely one of my favorite behaviors. I didn't want to get out of the water, but after a 15-minute swim, the dolphins swam out of view and it was time to climb back onboard to make our journey home. When we got back it was time for dinner and a quick lights out after an exciting day!
Until next time!
-Nat and Taylor