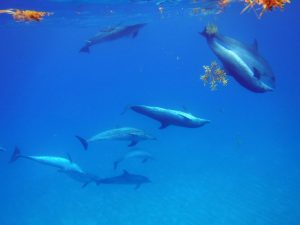 On Thursday, I found myself sitting, waiting for the dolphins to make their location known to me. But looking upon miles of blue ocean with no dolphins in sight really damped the mood. Traces of any dolphins were not being seen by any one on the boat. The captain tried to set a course that was close to the spots where we saw the dolphins at the end of the previous day. But her plan didn't work, so we changed course to try and find some action in another direction. That didn't work, so we changed course again in hope of seeing some dolphins. Hours went by without seeing any dolphins. All hope seemed lost, and I was about to give up looking for the difficult dolphins. (Note: though it may have felt like we were just aimlessly zigging around, the search is, in fact, fairly consistent and somewhat methodical. Captain Al and DCP want the boat to behave predictably; even though we always want to see the dolphins, we know it is important that they can avoid us if they prefer. And, it is not uncommon for it to take a few hours to find the dolphins. Such is research – or vacation – with wild animals!)
It was getting late, and the captain decided to head back to the dock, and I was ready to put my gear away. Finally, we come across a big group of dolphins. At first, I thought they were bottlenose, but it turns out they were the spotted dolphins. The best part is the massive group of dolphins were just casually hanging around the boat. Al made the decision to put swimmers in the water as quickly as possible. Nat rushes down to get her gear on and get the GoPro ready to take video footage of these beautiful creatures. The encounter lasted about 10 minutes, with lots of mating and/or socio-sexual behavior, before we moved onto another group of dolphins up ahead. The best part of this encounter for Nat was amongst all the chaos, one of the dolphins touched* her fin. The first encounter of the day was a good one!
As we approached the second group of dolphins that were farther in the distance, Nat turned to me and asked if I wanted to take a turn. Naturally I said "yes," and rushed down the later as quickly as I could so that I could get all my gear on before we arrived at the dolphin's location. Once ready, I slid into the water and kicked as hard as I could to reach the dolphin that was at the bow. It was only one dolphin sitting there right below the surface waiting for us. He or she was more interested in picking up a piece of floating sargassum then in the humans. I was able to follow this one dolphin for a while. There is always calm before a storm. Little did I know there was a group of spotted dolphins bow riding trying to be steered toward us in the water. I could see blurry shaped in the water and suddenly, I exchanged eye contact with three dolphins that were heading straight for me. I thought they were going to ram right into me. Lucky for me, they ducked right under me at the last possible second (as they always do, I'm told!). All I could in this moment is freeze and be completely still because I felt that any one motion, I could touch the dolphin – including Split Jaw (#22). Those moments under the surface are what makes me fall in love with dolphins. To top this day all off, on the ride back the sun was setting but there were dolphins spotted by Nat in the distance. A picture-perfect moment happened, where the dolphins was diving up in the air with the beautiful sunset behind it. I think it was the prettiest seen I have witnessed while on a boat with the sun setting.
What seemed to be a rocky start to our daily search of dolphins, turned into a day that was nothing short of amazing. I am so blessed to be a new member of the Dolphin Communication Project team, and calling Bimini my home for the next month. Can't wait for another day on the water!
Cheers,
Taylor and Natalie
*DCP feels very strongly about not touching wild dolphins. We never touch the dolphins on purpose and when a dolphin does touch us (which is very rare among the Bimini-born dolphins), it is not an invitation to touch them back.