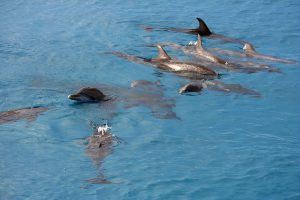 On Saturday, we had a chance to visit Mr. Ashley Saunders, local historian and artist. We toured his "Dolphin House" and it was amazing to see how dedicated he is to the project. He's dedicated the most important years of his life to this creative masterpiece, utilizing "trash" and of course the almighty conch. He melts the conch shells down and used it as his cement. He really is the Bahamian Picasso. We were able to go inside the house, viewing all the mosaics and seeing the notes in so many languages. The lookout, from the third floor, was just beautiful – you could see the whole island. We went into the museum room and there were quotes and business cards and money from all over the world. There was a preserved baby shark and a Bimini boa. We wrapped up with the gift shop…and spent plenty! We were pleasantly surprised at this quirky gem.
Upon our return to the Sea Crest – bam! Surprise! Conch salad for all – peppers. Chopped. Onions. Chopped. Tomatoes. Chopped. And of course: Conch. Chopped! This island surprise was delicious along with the hot (hot) hot sauce. Andrew put a dab of sauce on his finger, took a taste and bam! His mouth was on fire! With our salad, we headed to class, led by Nicole. We learned more about DCP, the spotted and the bottlenose dolphins. We even discussed potential hybrids – the "spottlenose" – which may exist but haven't been genetically confirmed. The sociogram was overwhelming – lines going everywhere! But, learning about the proximity of the ID#s and the thickness of the lines helped clarify. Her research is very interesting.
Our short break led us to the ocean side of Bimini and some of us got some extra snorkel practice in. Some of us even saw a barracuda, but it seemed frightened of us. We came back, on time, to meet up with the DCP crew and Captain Al said, "All aboard!" The conch-erers climbed aboard, watched some nurse sharks from the bow and departed the marina. Leaving the marina, we were able to see several spotted eagle rays. It took longer than Day 1 to see the dolphins and first – bottlenose again! These bottlenose were cruising, not very interested in the boat. We watched for a while and then said goodbye. Next up, a small sea turtle and then….Atlantic spotted dolphins! Gigantic. Boom. Pow. A group of dolphins coming toward the boat like a herd of buffalo. We watched this group from the surface, noting how easy it was to see them as sea conditions were so flat and clear. At first, there were about 15 dolphins and later the group size grew to at least 25, with even more dolphins in the distance. From the boat, we could see a variety of behaviors – from synchronous breathing to adult pairs swimming in infant position.
We got in the water three times, seeing different dolphin behaviors each time. There were more jellyfish – but we can handle them! The dolphins were busy and playful, but more vocal than yesterday. We could hear different types of vocalizations and it was all much louder than yesterday. They were often doing their own thing, swimming in close proximity to each other. We got to see mating behaviors again (which led to some nice questions after dinner) and we saw one subadult vomit. There was a lot of jawing, but not a lot of actual biting, sometimes followed by melon to melon behavior. As the day went on, and more dolphins joined, the dolphins stayed active. At one point, the dolphins were staying just out of our view and Captain Al recommended we approached them as if we were approaching someone sleeping (though they weren't). His advice worked and we got more close views. Sometimes they approached us straight on or snuck up on us from below. It was a little intimidating, but in a really exciting way.
At the end of one swim, Jesse lost his fake tooth (no joke: it's really called "The Flipper") when he took out his snorkel. Kel had just passed the DCP MVA to Nicole, so Kel, just like the dolphins she studies, dove down and grabbed The Flipper. We gasped in shock and awe and she returned The Flipper to Jesse. Little did we know Kel is part mermaid. After reuniting Jesse and The Flipper, Kel went down for another treasure: the magical conch. We all got a chance to see a live version of what we found so tasty earlier in the day. After some photos and kisses, we returned the conch to the sea.
We ate a delicious dinner – Italian night was a hit! After clean-up, we watched the last two days of video data.
Until tomorrow,
The Conch-erers (SHU 2019)
PS: Are you hooked? Sign up for our 11 – 16 August 2019 eco-tour! All the fun of a field course, but more free time! Click here for info.