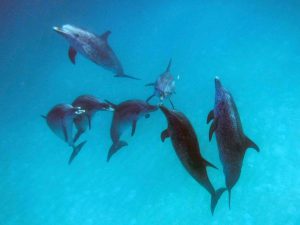 Tuesday morning Deric caved and got four braids in his beard at the straw market! The ladies weren't so sure about this request….Our class topic was contact behavior, associations and alloparenting. Our boat trip began with a snorkel stop at "3 Sisters." We were happy to see this extension of "Atlantis" and there were fish everywhere at this beautiful spot. The archway was cool and we were able to see the fishes' schooling behavior. Back on the boat, but before resuming our search, we got to have a little fun by jumping off the bow of the boat. There was definitely a dive contest going on.
When we found the dolphins, it was a group of seven Atlantic spotted dolphins. We watched from the boat as these dolphins were quite active at the surface and not traveling too fast. Suddenly, there was a loggerhead turtle just off the side of the boat. We got some good looks as it took three big breaths and then dove. Included in the dolphin group were Split Jaw (#22), Prince William (#64) and Speedy (#78) – a trio with strong COAs that Nicole had told us about in class (Kel & Nicole were left wondering what Tim, #69, was up to). There was a lot of play and socio-sexual interactions within this all male group. Even though we noted lots of "aggressive" behaviors, thanks to our conversations in class we were able to see the individual behaviors within the broader context – though there was jawing and fluke slapping, the angles of approach were oblique, the dolphins were fairly quiet and there was pectoral fin contact and rubbing in between the "aggressive" interactions. It was cool to hear how loud the fluke slaps are under water. Kel saw one of the juveniles regurgitate – and grabbed some fish bones for us to see! Captain Al and Denver both thought that the jaw at least was from a mackerel. From the boat, surface observers could see spyhopping and more "flippity flips."
Back on land, we cleaned up and then headed back to the marina for a BBQ! It was fantastic! Props to the chef – (Kel says "You're welcome!"). Nicole made great yellow rice and even Captain Al made an appearance.
Until tomorrow,
Roll Kerns (EKU 2019)