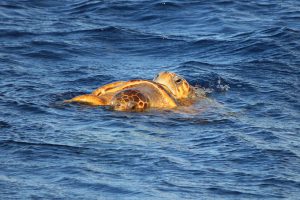 Saturday began with our field routine: breakfast, blog, break & class. During break, some of us went to the beach (photoshoot!), while others explored the laundromat (6 bucks a wash!). With Dr. M we discussed play behavior. Tears may have been shed….over cute elephants. We talked about different types of play and why animals play.
Lunch was chicken noodle soup (yum!). Our boat trip once again departed at 14:30. It was another slow day of searching, with lots of white caps. Suddenly…was that smooth jazz playing in the distance? Nope. But it was two loggerhead turtles mating at the surface. Was this sighting in honor of Endangered Species Day? Can't be sure, but we did enjoy the sighting. Captain Al told us that this is turtle mating season around Bimini and the mating event can last for hours. The female looked as though she was basically trying not to drown the whole time, but we did see her grab a breath every so often. The turtles did not show any signs that they cared about our boat's approach, which allowed us a very good view. We could see something swimming below them (remora?), but could not confirm what it was. We said farewell to this pair, gave them some privacy and continued on our way.
We did a bit more searching, but came up empty on dolphins. Our turtle sighting kept our spirits high as we came back to the dock. Next up: dinner and a movie. We watched BBC's "Spy in the Pod." The debate rolls on: who is our favorite, Spy Tuna or Spy Squid? Sadly, no one votes for Spy Dolphin. Spy Clam was cool and Spy Turtle was cool, but had trouble keeping up. Spy Stingray surprised us and Spy Nautilus was a little dull, just sort of floating there. After the movie, we were all tired – since the sun was out all day today! – so we went straight to bed. Before falling asleep, the electricity went out! Thankfully, not for long.
Let's hope for more dolphins tomorrow,
Roll Kerns (EKU 2019)