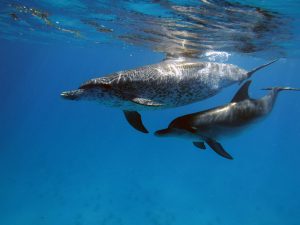 During Sunday's morning break, some of us explored down the beach and saw the Galant Lady. We continued on to the southern tip of the island, to the old sea wall. It was a great spot for photo shoots – the models we saw leaving must have agreed. Back in class we discussed group living and costs and benefits of a social life. There are different types of group living, including fission-fusion society versus matriarchies, for example. Then, Nicole shared the short-version of her doctoral work. Hearing about her investigations into some of the things we have seen here, first hand, was great. We really liked the visualizations of the data/the dolphins' interactions, including the sociogram. John compared it to his own social circles back home – big group of friends, with subsets who hang out more often.
Before the boat departed, we got to see a large tarpin at the marina. Then, we were off! Sadly, without Kel (but don't worry, all is well – she'll be back tomorrow!). It was a really pretty day. On the way out, Sam & Kayla saw a pufferfish and a stingray! Today, there were almost too many flying fish (ok, there could never be too many!). Our first dolphin sighting was at 15:49 and we saw four bottlenose dolphins. They were just slowly traveling and didn't stick around for very long, so we continued our search. At 16:02, we saw our first spotteds – a group of just three, including Leslie (#080), her calf and a juvenile. We got in the water and got a quick glimpse of this trio. Back on the boat, at 16:37, we came upon a group of 16. Leslie and her calf were in this group too. When it was time to get in the water, we could see the dolphins waiting by the stern (for us?!). Kayla stayed onboard and was super excited to recognize #104 ("Lamda") on her own! Captain Al did more boat circles than normal, as the dolphins kept showing interest in riding the bow of the boat. In the water, we saw a lot of play behaviors and from the boat, we could see some sticking their rostrums out of the water. There were lots of small jellyfish in the water today as well as lots of dolphin fecal matter – yay. These realities of the sea didn't stop us from enjoying these awesome observations. We got back on the boat and Captain Al called down that we could keep our snorkel gear on and hop back in – the dolphins had returned! Some of us did and there was even more playing and social behavior. It was really interesting to see how close the dolphins came to Nicole and DCP's MVA. The dolphins came so close to all of us, it was very cool. Nicole was able to ID Tina (#14) and calf, Niecey (#48) and calf, Paul (#99), #104 ("Lamda"), Poppy (#112) and un-named #107 and #114. Those of us on the boat saw even more aerial behaviors and activity at the surface. We got another chance to see how Denver might actually be a dolphin (he's very comfortable in the water!). On the way back to shore, Denver saw a tiger shark – to those of us who saw it, it was definitely a big blob. Coming into the harbor, some of us saw a spotted eagle ray.
Worn out from the sun and our swims, we devoured "the bomb BBQ chicken." We rounded out the night by making a serious dent in DCP's t-shirt stock.
Until tomorrow,
Roll Kerns (EKU 2019)