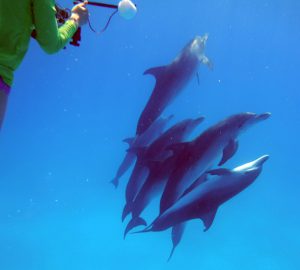 Monday began with learning more about DCP and the dolphins we are going to see here in Bimini. We learned where the dolphins' ranges are, how to distinguish between the two species and about spotted dolphins' spot patterns. We didn't know that each individual has a unique pattern – fingerprints! We learned how to tell the difference between males and females: males look like an exclamation point where as females have a long slit and mammary slits. We also had our boat safety and dolphin swim etiquette orientation.
After lunch we headed to the boat and met our crew: Captain Al and Denver. Right away, the waves were playing tricks on us and we thought we saw dolphins everywhere. We took a break and practiced getting on and off the boat with our snorkel gear. As the day wore on, we all became more and more comfortable making our way from the back of the boat to the bow. We spotted two turtles along the way and chatted about the pier construction, that we could now see for ourselves. Holly donated her snorkel to the sea (oops), but we all did great! Which was good because we didn't have to wait long for dolphins…
At 15:44, we had our first dolphin sighting! It was 13 Atlantic spotted dolphins. They were in such a tight cluster and came so close to the boat. Most of the dolphins seemed to be juveniles, but it was hard to be sure in the rough seas. There were at least two adults, one* of which was presumably with her calf – we think we saw it nursing! The timing was great, as this sighting was within DCP's "shoreline" range which was the exact topic we covered in class earlier. We saw some tail/fluke slaps and when some of us went in the water, John noted a juvenile who slapped the surface of the water at least 11 – 12 times.
Under water, we saw two juveniles playing with something (rock? shell?) at the seafloor. They were also rubbing their bodies against the sand. Partway through the swim, Denver joined us in the water and it was amazing to see him dive down and watch the dolphins follow him. Lai-yee amazed by the dolphin who came right up to her, turning at the very last moment.
Back on the boat, it was snack time: the apples!! Mark had no idea you could put lime juice on apples and loooooved it. The snack resurrected many of our "sicklings" Sarah and Kayla worked together to save the pretzels from going overboard. Seas were building so we made our way back toward shore, still looking for dolphins.
Good thing we were looking because suddenly there were two juvenile spotteds suddenly coming right toward the boat. We cruised with them and watched them ride the bow, making note of and giving space to the other dolphin watching boat. At one point, one dolphin swam through seaweed, catching it on its fluke.
Deric & John saw lots of flying fish as we cruised home. We had to go into the waves, so the ride was rougher – but we thought it was fun! Back at the hotel, we were all very tired, but not tired enough to skip the stirfry which, according to Mark, "slapped." (For those like Kel who had no idea what this meant, it means it was really good.)
Until tomorrow,
Roll Kerns (EKU 2019)