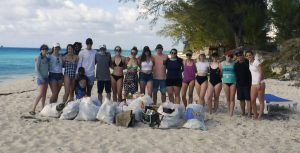 On Wednesday, the gnarly wind continued so we were trapped inside – which gave the crispiest of us a break from the sun. It was very nice to have the break, but after several lectures, we were getting antsy. Our lectures covered sharks and photo-ID. In between lectures, some of us discovered The Dolphin House and got an impromptu tour from its builder, Mr. Ashley Saunders. Others visited Bimini's "Straw Market," just across from the Sea Crest. The ladies in the stalls were so nice to us. Thank you, Ashley & Straw Market Ladies! After the photo-ID lecture, we practiced on archived DCP photographs before working to ID the two spotted dolphins we observed on Sunday. They were Romeo (#010) and Vee (#101)! It's not that photo-ID is hard, but it is a slow process, kind of like doing a puzzle.
After "school," we headed to the beach and did our beach clean-up. Our preschool friend from Sunday was back and he helped carry the bags. We were surprised by the comments from the tourists; some thought it was a very noteworthy, rare effort. Hopefully we inspired them to do something similar in their travels. The locals seemed appreciative too. There was a lot of variety of trash, lots of bottles (& broken glass), straws, broken items (phones!) and even dirty diapers (gross). As our reward, we headed into the sea for a nice snorkel. The wind and waves had the water a bit murky, so our octopus search wasn't successful, but we did see a barracuda and a turquoise and yellow fish we have yet to identify. Then, we just enjoyed the break, playing a bit of coconut football.
After supper (yum burrito/fajita/wrap things!) we had our lecture on mangroves. The late night music selections, while we worked on our field books, were "LIT" and may or may not have included a little dance party.
Until tomorrow,
Crispy Canadians (UNBSJ 2019)