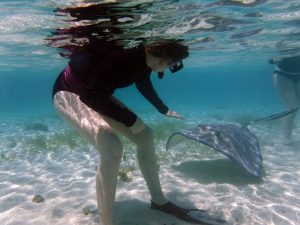 On Monday, officially the best day of Mia's life, we shifted our boat schedule and departed shortly after 10 a.m. The weather forecast for mid-week is windy, so we're trying to get in lots of experiences before potentially getting stuck on shore. Before we even reached our destination, we saw three loggerhead turtles. We got really great views of two confirmed males, and a possibly third male. As we continued on, we saw another turtle on our way to Honeymoon Harbor. As we pulled up, we immediately saw southern stingray, a green turtle and nurse sharks. In the water, got really up close and personal with these creatures and saw a sharpnose shark and a lemon shark. Some of us may or may not been given hickies. The nurse sharks were getting really close, sometimes sneaking up behind us or trying to get between our feet. The gulls were trying to steal the bait. As Shandraya hung out by Captain Al and the bait bag, she felt covered by rays – and she loved it! It was sooooo fun, even if some of us got chilly, since we didn't have to do much swimming. One ray had fishing line stuck on him, but Al was able to get it off (yay!).
Back on board, most of us ate our lunches as we cruised to stop #2: Triangle Rocks. As soon as we dropped anchor, we couldn't believe how quickly some Caribbean reef came straight to the boat. When we first entered the water, we explored close to the rocks. The fan-favorite fish was a juvenile yellowtail damselfish with beautiful, nearly florescent, aqua spots. We couldn't believe how many sea fans there were and we were surprised at how shallow the water was where they grew. After enjoying the reef, it was time focus on the sharks – but not before we saw a massive spotted eagle rays. Al threw bait in from the bow as we watched. There were at least 17 reef sharks and two sharpnose. The sharks' behavior changed once the food was in the water – they came much closer to each other and to us and were, perhaps obviously, more active at the surface. There were some schools of fish and it surprised some of us how they close the fish stayed to the sharks. Emil is disappointed that he survived without any shark bites (he jokes!) – it was amazing!
Back on board, we all went to the bow and watched Al toss is the very last of the bait. It was definitely a different view watching them race for the food. We said goodbye to the sharks and continued our sunburn day in the waves that felt like riding a roller coaster.
At 17:48, Nicole spotted a bottlenose dolphin. Soon it was two, then three, until finally the group size was four. They were crater feeding so we even though the seas were a little rough, were able to get in the water and observe. We stayed at the surface so that we didn't interrupt their feeding. We could really hear their echolocation and got some very good views of the dolphins as they came up to breath, often checking us out at the same time. At one point, one dolphin was crater feeding in one spot, a second joined very close. When a third dolphin then came over, the second dolphin immediately left. Hmmm….wonder what was going on there? From the boat, we noticed that they were all at the surface around the same time, then all feeding at the same. From both perspectives, it seemed that three of the four hung out more closely, with the fourth somewhat on the outskirts.
We swam with them until it was time to head home. Our sunburned selves cruised home, showered and ate. What a day!
Until next time,
Crispy Canadians (UNBSJ 2019)