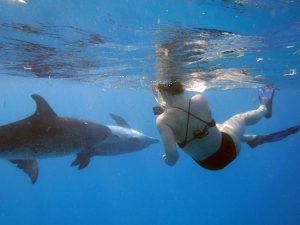 Nicole, Manon and I are thrilled to have Dr. Turnbull and students from UNBSJ back for their Bimini field course! We hope you enjoy the student blog posts for the rest of the week.
-Kel
On Sunday morning, we flew to Bimini in two tin cans. Well, okay, there were two planes, but they were really small! They got us to Bimini around 10:30 a.m. We left the airport and in no time were at the South Bimini water taxi dock. We could already see several different fish species before boarding – it was Maia's first ferry ride! Our chilly Canadian (honorary or otherwise) bones were already impressed with the weather. We reached the Sea Crest, met Kel & Nicole and threw our bags in our rooms, ready to get started. We heard the general rules and then hit the beach to test out our snorkel gear. Joy needed a crash course (1st time!) and Jen was quickly befriended by a local preschooler. The water was so warm and super clear. Some of the boys tried to swim to Miami, but Kel called them back. After snorkeling it was time for a quick lunch and boat and photography orientation. We headed to the boat and began our search for dolphins. Before we had even left the harbor, we saw spotted eagle rays.
At 15:35 we came upon our first dolphins! It was two bottlenose dolphins. They came and gave a quick look at the boat; soon we could only see one dolphin and it was gone at 15:41. As we searched for more dolphins, we saw many of the mystical creatures: flying fish! At one point, we even saw a mackerel chase some! At 16:30 we saw our first Atlantic spotted dolphins! There were two: one had a lot of spots and was slightly larger; the other had fewer spots. We saw the younger one carry seaweed on its pec fin and its flukes. The older one blew a bubble burst, breached and later tail slapped. For the most part they came together, swimming parallel. At times, they were playing around the bow, bow riding briefly and then surfing the waves. It was interesting to see that the two often took their breaths around the same time. After the dolphins began slowly swimming around the boat, DCP's Nicole and Manon geared up and got in the water to see how much underwater data they could record. At 17:15, we had the chance to join them. The dolphins would swim away together, return to the group and check us all out, then come back together and surf away, return to the group, etc. Jake tested out his freediving skills and found the two followed him down! At least twice, we saw the older dolphin drag its fluke through the sand. We noticed both were females and were amazed at how close they came to us. We watched them swim belly to belly. None of us expected to feel the emotional connection to the animals that we did – it was amazing! We got to watch them in the water for about 40 minutes, much longer than any of us, including DCP, expected. They left us at the perfect time, as we had to head back to the boat and back to shore anyway.
On the way home, at 19:06, we saw two more bottlenose dolphins much closer to shore, right at the harbor entrance. These didn't stick around and we noticed that compared to the spotteds, these bottlenose did not spend time swimming close to each other. But, we still got a good look at them and DCP was able to take some dorsal fin photographs for their photo-ID work. We cruised into the harbor, got into the boat slip and couldn't miss the seagulls mating on the dock!
Some of us watched a beautiful sunset while others headed back to the marina to try to catch a glimpse of a bull shark (no luck). Then, we grabbed our showers, inhaled supper and had a nice chat about our initial thoughts on "eco-tourism."
Until tomorrow,
Crispy Canadians (UNBSJ 2019)
Pictured here: Student collecting still photos for DCP's photo-ID catalog. We'll tell you who the dolphins are after the students figure it out. No spoilers!