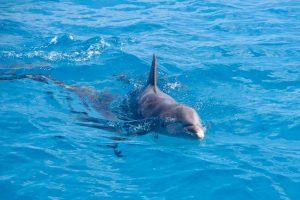 After the cancellation of Friday's trip due to bad sea conditions, I was able to join Bimini Adventures' guests once again on Saturday morning. And it didn't take time before we find some dolphins, just half an hour…
A dozen bottlenose dolphins were feeding not far from the shore, accompanied by few nurse sharks! The group was mostly composed by the same individuals that we saw earlier. The guests got into the water and observed them few minutes, before moving on for spotted dolphins. But, time went by and still no dolphins…
So, we decided to head back to try to find the group of bottlenose dolphins before going home. I was honestly very unsure we could find them, but there they were! At the exact same spot than earlier. The time, I was able to join the guests. We observed them a bit, feeding surrounding by three nurse sharks.
Soon it was time to go back to Bimini! Hoping that our spotted dolphins will be there tomorrow…!
Until then,
Manon
PS: The UNBSJ students arrived on Sunday – and are off to a great start. Stay tuned for their blog posts!