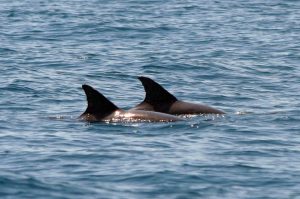 On Saturday, things finally lined up: boats were in order, captain was free and the seas were calm. We headed out in search of "Lamda" (DCP ID#104). Lamda grew up around Bimini, but stranded far from home in late Aug 2018; he was rescued, rehabilitated and released with a satellite tag (read all about it here and here). But, the satellite data was weak for the last several days; the few points that were coming in were really bad quality, which means they didn't provide reliable information about Lamda's location. Still, with email access sorted on my phone, we headed out.
Turns out the weather was fantastic. But, no satellite data came in. So, we searched as we normally do (Lamda is the first dolphin in this area to be tagged). We came up empty….at least for spotteds, anyway. We did see a group of about five bottlenose dolphins, but neither Lamda nor any spotted dolphins were nearby.
Turns out, Lamda's tag is probably done transmitting. It lasted 108 days! That isn't breaking any records for battery life, but it did pretty good and gave us information on this dolphin's movement that we never had access to before. So, while we wait for the regular Bimini field season to resume in April, when we can look for Lamda as we look for all the dolphins, I extend a huge thank you and congratulations to the team: Bahamas Marine Mammal Research Organisation, Wild Dolphin Project, Atlantis Bahamas, Sarasota Dolphin Research Program, Al Sweeting Jr and the Bahamas Department of Marine Resources. Cheers!
Until next time,
Kel