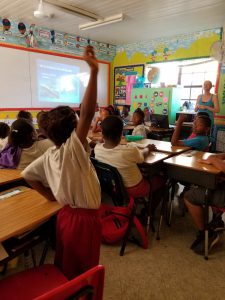 On Tuesday, I had a chance to get back into a few Bimini classrooms. This time, I was joined by my friend, Jillian Morris, Founder and President of Sharks4Kids. We visited students in Grades 2, 3 and 4. We chatted about the importance of the ocean, compared (& contrasted!) dolphins and sharks, and we all agreed that Jillian and I can in fact be friends, even though she studies sharks and I study dolphins. In fact, the students even decided that one person can like both! After all, sharks aren't the bad guys of the sea and dolphins are pretty tough and cool too.
Thank you to the teachers and principal of Bimini Primary – and of course, the students! I am already looking forward to my next visit – and future collaborations with Ms. Jillian and Sharks4Kids!
Until next time,
Kel
PS: Interested in joining us at our Bimini, The Bahamas field site? We still have spaces available for our 30 June – 5 July eco-tour! Click here for more info and get your deposit in now!