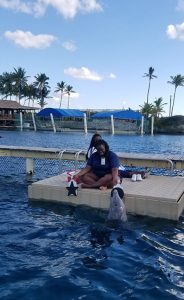 Our team arrived late yesterday to Nassau for 3 packed days of research. Our team includes Heather, Jill, and Donna who joined Kathleen for this field session at Blue Lagoon Island, home of Dolphin Encounters.
We are here to collaborate with Te-Shalla and Destaney in collecting data on whether dolphins express a choice in receiving a single fish versus a jackpot of fish in advance of studying whether they will choose the larger amount after a delay or the single fish immediately.
We did lots of standing and observing and watching dolphins. It was the best way to spend our day! Among friends and with dolphins! We also toured a bit of the island and enjoyed a delicious lunch. (the reader might notice a theme to our field reports – when in the field, meals become very important as well as a time for chatting about results and protocols!)
We have another early morning tomorrow and another day of data collection.
Stay tuned!
Kathleen, Donna, Jill, and Heather
P.s. in the blog photo, you can see a young male selecting one of the targets for this study.