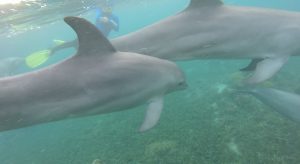 We started the day early with an aerial view of Heather, Dee and I traveling by water taxi to Bailey's Key for data collection. I had a ~26 min morning data collection session in which Meredith and Sarah, two trainers from RIMS, joined our observations. They got in the water also and it was funny to watch the dolphins react to their presence! A very social group of dolphins became even more social and very vocal! There was much circle swimming around Meredith and Sarah and much social rubbing, also! To use anthropomorphic terms – it seemed like the dolphins got a huge treat with additional early morning visitors!
The rest of our morning was spent collecting data for the dolphin innovative study and our spatial use data collection sessions. For the former, Heather collects data from the surface, Dee is next to Teri recording details of the cues and I am the in-water person getting the underwater and surface behavior data. The current picked up yesterday morning and I definitely earned my lunch!
It was a good day if also punctuated by several rain squalls. Fiesta night was not on Anthony's Key but in the dining room. We were all glad to have a dry spot to enjoy dinner!
Tomorrow is our second to last day of data collection – we will have lots and lots of data to analyze!
Cheers,
Kathleen, Heather, Dee, & John
P.S. A hearty Thank You to Wanderer Bracelets for their sponsorship of DCP! Check out the dolphin bracelets on Kathleen's wrist … Wanderer Bracelets donates 10% of each dolphin bracelet sold to DCP. Check out their web page (https://www.wandererbracelets.com) to pick up your dolphin bracelet … and maybe 1 or 2 others! There are some really cool designs! Check out their web site to learn the story of these bracelets – very eco-friendly!