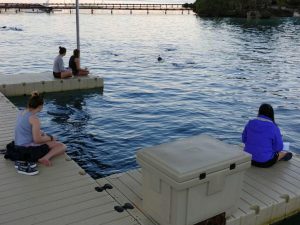 Data, data and more data! Our paradigm shifted just a bit this morning. We still met at 6:15 AM to go observe the dolphins at Bailey's Key and collect data with Kathleen but we also began our first session where we collected details about dolphin surface active behaviors as well as the behavior of any dolphins within 2 dolphin body lengths of Kathleen. The data sheets were a bit daunting but practice will make perfect! The day was sunny and bright and warm! Our data collection session was followed by a scrumptious breakfast after which, we reviewed the data we collected and discussed one of the scientific papers we had to read. The paper was about tooth rake marks that are an indirect indicator of aggression in dolphins. After observing the dolphins here at RIMS in person, we'd be more inclined to believe the rake marks are just as much an indication of play interactions as aggression.
We had some free time from just before lunch until about 3 PM to work on our portfolios, read remaining PDFs for future discussion, and enjoy the tropical flare! A few of us snorkeled, kayaked, or just meandered through Anthony's Key to observe the other animals (birds, anoles, iguanas, eels, and more).
We met in the RIMS classroom to review video and watch a few sample videos from Kathleen that depicted aggressive and playful actions by dolphins. Our afternoon wrapped up with a talk on sea turtle conservation by Jennifer, Education Director at AKR, RIMS. We learned several neat things we'd not known before about sea turtles. We were especially interested in the Arribada in Costa Rica.
And, this evening is the fiesta celebration: a buffet dinner that included ribs, corn and exceptionally good brownies (among other culinary delights, though still no mac 'n cheese!). We participated in the hermit crab races, tried our flexibility at limbo and enjoyed watching the Garifuna dancers. All in all, today was a very good day! We'll be ready tomorrow by 6:15 for more data collection! It's hard to believe we only have 2 days left!
Cheers
The URI Rams!