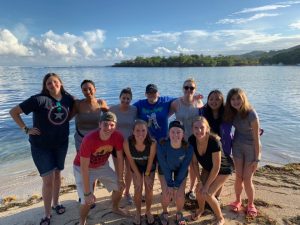 We started the day with dolphin observations while Kathleen collected data – another early morning. There was lots of seaweed blown in from the night but the underwater visibility was really good! It was partly cloudy but with little wind. There was much less surface activity than previous days and there was also much more dolphin self-play than play with us.
We came back from Bailey's and had a delightful breakfast. We were supposed to have an hour of free time when Justin burst onto porches and let us know there was a change of plans! We were able to sit in on a training session with the dolphins and their trainers and get to know them a bit more. We each spent time with a different dolphin and trainer. It was well worth the change of plans to get to know the dolphins better.
Our morning was packed because after sitting with the trainers we did another observation of Kathleen collecting data – a second morning session. The dolphins were much less active after having had breakfast. These two sessions were followed by an hour of free time so we could work on our portfolios. Lunch was later and after lunch we reviewed video in the RIMS classroom – continuing to sketch the different dolphins. We noticed a slight improvement in confirming IDs of the dolphins on the video. There is a lot less guessing and shouting out various dolphin names and more often than not, the first name offered matches the dolphin on the screen!
Our afternoon wrapped up with a discussion of an article on mother-calf swimming – locomotion formation. Our discussion was lively and was punctuated by a video of a dolphin calf swimming with mom and others from Kathleen's video archive. The calf was only 2 weeks old!
Next, we got ready for and departed on our night snorkel. We saw numerous fish: squirrelfish, puffer fish, an octopus, a lizard fish, some blue tangs, a sergeant major that was guarding eggs (as denoted by its purplish color hue), and a large hermit crab. We also saw a very large trunkfish. Katlyn got stung by a box jellyfish with the evidence a seeming sting wrapped around her arm. Vinegar was helpful to decrease the sting.
We rode back to the resort enjoying the sky full of stars. Dinner was wonderful and we are all ready for bed!
Tomorrow is another day in paradise.
Cheers
The URI Rams!
P.S. the group photo is from first thing this morning.