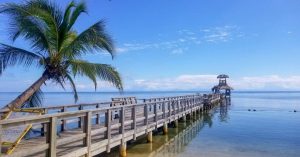 We woke to a torrential downpour and Kathleen made us go collect data. But, it was so very worth it! We waited 15 minutes to see if the rain would subside. It did not. By the time we got to Bailey's Key, we were all wet. But, just as we began our surface observations, the rain let up and then ceased. And, Kathleen mentioned that underwater visibility was great! The dolphins were very, very playful and there was a lot of jumping, leaping, and other surface behaviors. Even Carmella was leaping! Most of the activity was actually between the three platforms. None of us were on the docks – we were all on the platforms to watch, and occasionally toss seaweed for, the dolphins. Kathleen spent an extra 10 min in the water, after which we all departed Bailey's for breakfast.
At breakfast, we tried "flitters," which are a type of square fried dough. Very tasty. We had about 45 min between breakfast and getting to the bus for Maya Key so we tried our hands (and feet) at paddle boarding – some with more success (and drier) than others. A few of us were diligent and transcribed our slates from the morning observations.
We took the bus to Maya Key where bright, sunny, and hot skies greeted us. We also snorkeled and saw some neat fish: a smooth trunk fish, French and banded angelfish, lots of parrotfish, flounder, disco fish, squirrelfish, trumpetfish, triggerfish, baby blue tangs, and more. We also got to meet an 18 yr old male South American sea lion and a few of us even fed him a few fish. Also, the animal collection was very diverse. And, of course, the food was delicious!!
After returning from Maya Key, we had about 30 min to chill and then met at the RIMS classroom to see some of the morning video and discuss two pectoral fin papers. We wrapped up the pectoral fin paper discussion on a dock watching the sunset. Dinner was scrumptious and followed by reviewing the rest of the video collected this morning. The dolphins were just as active underwater as above!
Looking forward to tomorrow!
Cheers
The URI Rams!
P.S> thanks to Kiran for today's blog photo of the snorkel dock at Maya Key!