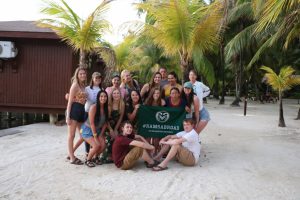 We began our day like the previous with data collection at the crack of dawn! It was a blustery morning with swirly, gusty winds. The dolphins were a bit more social with one another and, Kathleen reported, into their own thing more than paying her any attention. Our morning was spent pondering our individual research questions for our projects, intermixed with a bit of time soaking up the sun and trying our skill on the paddle boards. After a delicious lunch, we each (individually) spent time discussing our research questions and our data collection protocols with Dr. K and Dr. D (Kathleen) to be sure we grasped the concept of using a behavior as a physiological indicator. They assured us we all had solid questions. Now, we must expand on our protocols and test our what we believe to be the best method for data collection.
The evening presented us with another culinary buffet and an introduction to the culture of the island – the Garifuna dancers. The meal was again delicious and the dancers were fun to watch – Amber even got up to dance with one of the ladies! The crab races were won by Jackson's hermit crab, after which Jackson who received high-fives from the rest of us (see photo below). Ansley, Ralea, Grant and Kyler all attempted to win the limbo contest … to no avail! But it was fun to watch them try!
All in all – we had a great day on Roatan and look forward to another early day of data collection tomorrow!
Cheers
the CSU RAMS in Roatan 2019 group!
P.S. Shane, Ron & Kathleen were sad to report there was no mac 'n cheese on tonight's buffet!