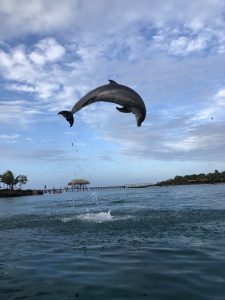 Today was a packed day! We started at 6 AM at the water taxi to Bailey's for data collection. We collected data before, during, and after Kathleen's data collection session. We had a morning lecture and then an afternoon session meeting the dolphins and the trainers. Our evening was topped off with a night snorkel from a boat. Each student shares their thoughts about the day …
Sierra – today, we discovered we could love the dolphins even more than we already did!
Maddi – There is no way you can be sad when sitting by the dolphins because of all their whistles and noises.
Heather – I got a kiss from Bailey and it was the best day of my life (p.s. Bailey is a dolphin!).
Ralea – I had a wonderful day with dolphins and people and then after the night snorkel I got stung by a jelly fish twice (what a day!)
Jennifer – we experienced a torrential downpour this afternoon and also had rain this morning that yielded a rainbow to start the day.
Kyler – We saw the first sunrise and sunset of the new year and we learned every minute in between.
Marcela – There was no better way to start 2019 than by filling it with learning and laughter with our new friends both human and dolphin.
Grant – From an amazing classroom session to a night snorkel, a lot of things have happened in 2019 already but the best so far is spending an hour with Maury the dolphin.
Ally – My favorite part was being able to get up close and really get to know one specific dolphin and one specific trainer – to see how smart the dolphins are and what Maury's personality is like and how well she works with Jocelyn. It was really interesting to hear about how each trainer arrived at RIMS to work with the dolphins.
Marissa – The best day of my life thus far getting a personal introduction to the dolphins from the trainers was an experience I will never forget because of the close contact and surreal experience.
Amber – my favorite part so far has been watching the dolphins in their day-to-day life ("back stage") as a researcher as opposed to how the majority of the guest or visitors see the dolphins.
Ansley – I've been very grateful for Kathleen's and Dr. K's patience in teaching us various concepts and helping us to be better scientists.
Kaelyn – I have really enjoyed learning about all the different animals so far, even the animals on Maya Key … and learning about them through a new lens (perspective).
Andrea – I'm grateful for the opportunity to get involved more up-close and personal with the dolphins today and to see their personalities shine through.
Jackson – even though trainer for the day was super long, it was worth doing everything we did! We fed the dolphins and asked them for behaviors. We also shared a boogie board ride with dolphins! The only not great part was washing the coolers and preparing the fish for the coolers.
All students are turning the corner on their own research projects. Today was a good day.
Cheers
the CSU RAMS in Roatan 2019 group!
P.S. Paige brought us a nice selection of chocolate – Thank you!
P.S.S. Thank you Ralea for the photo!