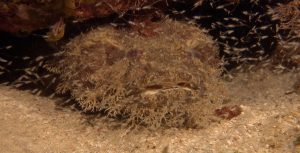 It's a great morning that starts with a clear sky, a strong cup of coffee, and a plunge into clear water with social dolphins! Everyone was up early and our trek to Bailey's was complete by 6:35 AM. I was in the water at 6:50 and greeted by Bailey and Tank, Poli, Tilly and several other dolphins. Champ and Calli decided my fins were REALLY interesting for a few minutes. Even French and Ronnie came by to investigate. The first session is always punctuated by more inquisitiveness around me and the MVA than subsequent sessions. By the end of the 26 min session, the dolphins were back to playing and socializing with each other, which was what I'd hoped for would happen. I also had the opportunity to join the group for the second morning dive, to "White Marker #21." It was a nice dive that included observations of a scorpion fish and toad fish (see the photo here by John). The water was warm and clear and the current slight. Everyone had fun. Out afternoon was wrapped up with observations of the dolphins during a training session. I wanted to confirm the rake marks and other ID details of the dolphins for the ID sketches. And, Nat, Madison, Ron, Chris and Dave helped and also learned a bit more about how we recognize each individual in the group.
We had a great first day that finished with a good meal and lively conversation! We look forward to more tomorrow!
Cheers
Kathleen & the DCP Eco-tour gang!