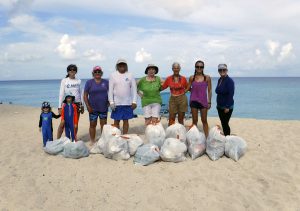 After breakfast on Wednesday morning, Kel, Nicole, and the DCP guests headed to Radio Beach to collect garbage and recycling. It was a lovely day, but we were fortunate that the clouds gave us a break from the blazing sun while everyone worked hard to pick up as much trash as they could. If it had been a bit cooler, we would have kept working all morning! But as you can see in the photo above, we were very effective in under an hour. Once we had rinsed the sand off and had some water, we re-grouped for Kel's presentation and discussion about photo-identification and the dolphins of Bimini.
The boat departed from the Sea Crest Marina at 1500, just after the wind had picked up. The morning had been so calm we were hoping we'd have a smooth ride all day, but squalls to the West created quite a blustery afternoon. The waves and wind didn't prevent us from finding a group of spotted dolphins early into the trip, though! Captain Al spotted a group of what turned out to be eight dolphins, including Niecey (#48), Sulphur (#102), un-named #107, and possibly Cerra (#38). The dolphins were riding the swells and waves and seemed to be quite social. After about 30 minutes of surface observations, we tried a couple of underwater encounters. Though the surf-play was slower than previous days, the dolphins weren't really staying in the same spot, so the swimmers only had brief views of a couple of young dolphins as they cruised by. We continued observing a lingering group of three young dolphins, still including Sulphur and possibly newly-named #110 (stayed next month to learn her name!). The juveniles were riding the waves and then the bow, giving the guests a great show.
Over an hour after finding this group, we finally lost sight of the remaining dolphins and continued on our way. Soon, Captain Al saw more dolphins leaping in the distance! As we approached the spot, we were surprised by a group of 10 dolphins from the East. From the bow, Kel recognized Inka (#93) and Vee (#101). Strangely, we only saw these dolphins for just over five minutes before we lost sight of them abruptly. It's possible they were engaged in social behavior below the surface as we moved off from them. At any rate, we continued our search, but to no avail. By the time we were close to the island again, the wind had calmed significantly, but that didn't help us spot any more dolphins on our way back to the harbor.
Back at the dock, everyone was pleased and smiling about the dolphin adventure of the day. A great dinner and long conversation later, we all headed to bed to re-energize for the group's last day on the island. We can't wait to make the most of it!
Until then,
Nicole & Kel