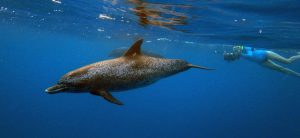 Tuesday morning also began nice and early—our guests want to make the most of the days they have here on Bimini! A bit later in the morning, a small group set off with Mr. "Bonefish" Ebbie to explore the Healing Hole. On East Bimini, the area made up of mangroves, there are elaborate creeks and tunnels naturally formed in the forest. On the outgoing tide, cold water flows out of these creeks and brings with it lots of minerals, which some people believe to have healing powers. Whatever you believe, this adventure into the mangroves was beautiful, and an amazing side of Bimini that visitors rarely see. And on our way back to the dock, we saw lots of Southern stingrays, lemon sharks and nurse sharks, reminding us of the importance of the mangroves which serve as nurseries for many species.
After a lovely lunch, we set off on the boat at 1500. Less than an hour into our search, we saw dolphins leaping a bit to the North! As we approached, the dolphins came towards the boat and we were able to see that they were Atlantic spotted dolphins—a group of three including Inka (#93) and Vee (#101), along with another juvenile that Kel and Nicole didn't recognize from the boat. These dolphins were riding the waves, but relatively more slowly than groups we've seen earlier in the week. They seemed like they might stick around with human swimmers, so we decided to try underwater observations. Just as we were about to put people in the water, everything was suddenly a bit chaotic. The wind picked up, another pair of spotted dolphins joined the original three (including one adult that Kel recognized from previous trips, but that isn't in the DCP catalog, and possibly Milo (#96)), another dolphin-swim vessel was getting close to the North, and the dolphins started picking up speed. All of these things combined meant that our guests were only able to have a brief view before the dolphins moved off.
Once everyone was on the boat, we located the original three once more. The other dolphin-swim vessel was off looking for another group of dolphins, and they quickly found a group of eight to the North. As we continued following the three, including Vee and Inka who were both playing with sargassum, we realized that this group was likely going to join the other eight. We didn't want to overwhelm the dolphins or the humans, so we moved off to observe from afar. After about half an hour, as we were starting to search for more dolphins, the other vessel decided to head back to the harbor. They kindly let us know that the big group of 11 was heading our way, so we kept our heads up and looking in that direction. Sure enough, there were suddenly lots of dolphins around, including SplitJaw (#22), Inka (#93), Swoosh (#36), Tim (#69), and possibly Prince William (#64) and Milo (#96)! We attempted a few underwater observations of this group, but the dolphins had another agenda—they were riding the waves, socializing, and playing, much too quickly for the humans to keep up. We decided to leave them to it and started making our way back to the harbor. Two young dolphins joined us on the bow, but we soon lost sight of the whole group.
Just 20 minutes later, we were surprised by a couple of young spotteds leaping towards us from the West! It was getting quite late, so the Captains asked that we try an underwater observation right away, instead of collecting data from the boat for too long—for everyone's safety, we want to be sure we make it back to the dock before it gets dark. And good thing we heeded their request—this was the longest encounter of the day! The group of 11 included Romeo (#10) with her calf, Lil' Jess (#35), Stefran (#82) with her calf, un-named #75, and Kel thinks she spotted Cerra (#38). These dolphins were very curious about the humans at first, following the free-divers down (and bumping Nicole in the head on her way back to the surface!) After investigating us for a minute or two, they continued with their interactions, swimming at a relatively slow pace so we were able to collect lots of photos and video! When we piled back on the boat, everyone had huge smiles and lots to share!
We made it back to the dock rather later than usual, but as happy as ever. Another delicious dinner was accompanied by animated conversation, about the day's events as well as many other subjects. With two days left, we can't wait to see what new adventures await!
Until tomorrow,
Kel & Nicole