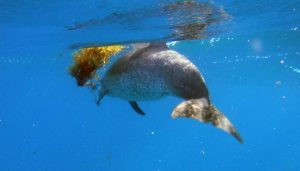 Sunday morning was a busy one for everybody. DCP was preparing to welcome the guests for their first day on Bimini, the guests were dealing with the airlines and ferries, the Sea Crest staff was hard at work getting the hotel ready for everyone. The majority of the group was on-island and ready for our first meeting at noon, when DCP made introductions and gave everyone the "house-keeping" chat. As the last few guests made their way to the hotel from their various modes of transportation, we all shared a lovely lunch and continued getting to know each other. This is a very diverse international group, with people traveling from Colorado, Illinois, Hawaii, Virginia, Switzerland, the UK, and Turkey! Everyone was already getting along splendidly, only five minutes after meeting. It's going to be a wonderful week!
At 1445 the group was all on the dock, ready to have their boat introduction and begin their first dolphin trip at 1500. As it was day one, this trip began with a gear check, which was also a nice excuse for everyone to enjoy the beautiful Bahamian waters. Shortly after getting back on the boat, we spotted a small group of bottlenose dolphins. This group of three was pretty elusive, diving down and surfacing only periodically. Kel snapped some surface photos so we can try to identify the individuals back at the office, and then we continued on our search. We searched and searched, and the waves got bigger the farther we went. We were really rocking when we finally found more dolphins. Actually, the dolphins really found us. The crew all thought it was another group of bottlenose at first but those sneaky dolphins turned out to be three Atlantic spotted dolphins. They were all a little bit older and neither Kel nor Nicole recognized any from the DCP Bimini catalog, so we suspect they are the northern transplants. We watched the group as they surfed the waves and played with seaweed, and then the Captains suggested we give an encounter a try. We only saw the group briefly underwater, but Nicole was able to capture some still images that will hopefully help us figure out who the individuals were.
We lost sight of this group as everyone piled back on the boat, mostly because the waves made it very distracting—everyone was struggling to stand straight and stuff was rolling around. Luckily, things began to calm down as we made our way back toward the island. About 45 minutes after losing sight of the last group, we came across another small group of spotted dolphins. This time we definitely recognized someone—Romeo (#10) was there with a calf, along with another mother-calf pair. These dolphins were also riding the waves and covering a lot of area while doing so. The second mother had a pretty small calf and seemed to be keeping it a little farther from the boat, which is why we never really got a good look at the adult. Nevertheless, we attempted underwater observations, which resulted in a quick swim-by. Meanwhile, the crew on the boat was keeping an eye on another group of dolphins—as the swimmers got a glance at the spotted, a group of at least four bottlenose dolphins swam in front of the boat and soon disappeared.
With everyone onboard, we still had a little time to check for more dolphins on our way home. We didn't find any, but everyone was quite pleased with what we had been able to observe. Back on land, we gathered for dinner and shared some wonderful and intriguing conversations on many subjects—just the start of what promises to be a fascinating week. Soon it was time for bed, and time to dream about what we might find tomorrow.
Until then,
Kel & Nicole