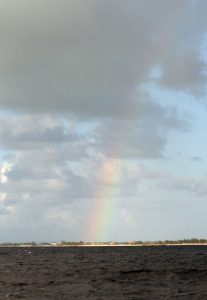 On Friday, the breeze in Bimini was still stiff, but with sunny skies we departed at 1500 in search of dolphins. We did not see any along the shore and the guests, who have been to Bimini many times, asked to stop at 3 Sisters for a quick snorkel. After they toured the biggest rock, we were soon on our way again…
It seemed the seas were going to get the better of us when Captain Al suddenly saw two bottlenose dolphins at the bow. They disappeared just as quickly though and with the swells, white caps and murky water, we did not see them again. We continued our search and it was only when we were close to home that five Atlantic spotted dolphins appeared. Once more, it was difficult to keep the dolphins in view given the challenging conditions. But, it soon became clear that there were in many dolphins and were practically everywhere, stretched out and moving. Moving fast. We kept up with them with the boat as best as we could and though it is disappointing to end the week without an underwater observation, the guests were absolutely fantastic in appreciating the views from the boat and the great swims earlier in the week. So refreshing!
It will likely be a week or more before I'm back at sea. In the meantime, I hope you enjoy reading all about Kathleen's field course in Roatan!
Until next time,
Kel