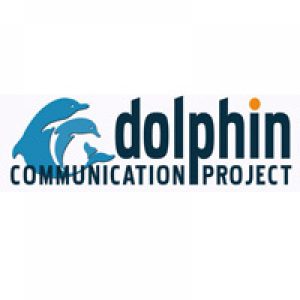 Being able to work with and around dolphins is such an amazing experience, and being able to share that experience with others makes it all the more worthwhile and fulfilling. On Sunday morning, I was able to join Kel for a presentation about DCP aboard the Coral Reef II for the first of two Shedd Aquarium High School Marine Biology programs. The captain picked us up in Alice Town around 9:00 am in a small boat for a quick 15-minute boat ride to the Coral Reef II, where the students stayed for the program. Thank goodness it was a beautiful day and the seas were calm, otherwise Kel and I would have been soaked to the bone! We were able to make the trip with only a few refreshing splashes and were greeted with excited faces from the students and the crew.
In no time, Kel was set up and ready to talk about dolphins and DCP to the group of ten high school students in the program. She discussed what DCP is all about and how DCP conducts its research, and even brought the camera with its housing for show and tell. The students were very engaging and some even came up to the front of the classroom to take a closer look at the camera and the hydrophones that were attached. Kel taught them about why the hydrophones where important, and how it helps the video recording to pick up the different acoustics of the dolphins under water. Then Kel discussed the identification process and why it is important to ID as many dolphins as possible. The students asked great questions and were able to learn about how the identification process helps us to learn about and track the population size of the dolphins, estimate their life spans, study reproductive rates, and analyze their behavior. I was able to share a little bit about my experience with dolphin identification with DCP and some of my strategies for identifying certain dolphins, explaining how to look for certain notches in the dorsal fins, or certain permanent scars the dolphins might have. We were even able to introduce them to some of the spotted dolphins that we have cataloged, like Tilly (#87), Romeo (#10), and my personal favorite, Lil' Jess (#35)! I was also able to share my journey finding DCP as well as sharing my college experience so far in marine science. I shared how I applied for the Dolphin Communication Project thinking how amazing it would be to work with such big and intelligent animals like dolphins. Being able to work with such smart and social animals has really been a treat and something I wish to pursue thanks to DCP! I hope that sharing my experience as an intern and telling them about my route in college as a biology major taking marine science classes, helps them in their endeavors as they pursue college and possibly studying marine biology. It was definitely a pleasure to share my experience for something I love and being able to hear Kel give an awesome presentation.
After our time with the students was done, we boarded the small boat again for a nice cruise back to North Bimini. The rest of the beautiful Sunday was spent snorkeling at the beach and doing a little more work on photo identification. I can't wait to help with the next talk Kel gives!
Cheers!
-Nat
PS: Do you want to come meet Kel and the dolphins of Bimini? Scoop up one of the remaining spaces on our 26 – 31 August 2018 eco-tour! A bucket-list worthy experience for sure! Click here for info.