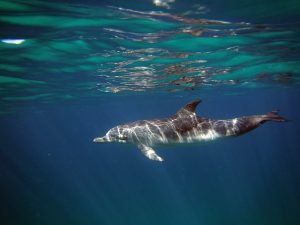 Each summer, DCP aims to have multiple internship opportunities at our Bimini, The Bahamas, field site. As you read last month, J.P. participated in our May Short Field Experience Internship. Nat (Natalie) has been busy at our USA office and began the field portion of her internship this week. To help train and orient Nat to the island, Patrick – 2016 field course participant (EKU) and 2017 summer intern – has returned for the week. Check out their first impressions below and follow along with Nat's experience over the next 5 weeks!
Cheers,
Kel
On Sunday, I once again I found myself back in Bimini! I think I'm trying to make it a summer habit at this point. After getting to study abroad here with Eastern Kentucky University in 2016, and being an intern in 2017, I'm back this year to assist Kel and the new summer intern, Nat! The only downfall is that this will be my shortest trip yet, since I'll be here for a week. I will certainly make use of every second I am here though! Coming back to the island I was as giddy as usual, I couldn't wait to see Bimini, its people, and the dolphins again! The only thing missing as I boarded the plane was Nat. We had planned to meet in Fort Lauderdale when her plane landed but her flight got so delayed that she missed the flight to Bimini. As she planned her alternative routes, trying to get here as soon as possible, I met up with Kel as soon as I got off the water taxi to North Bimini. She got us situated in the Sea Crest and we headed to her house to catch up, get some refreshers about the boat and dolphins, and she made dinner! 🙂
The first full day on the island began with meeting the current group of students that have been here for the past week or so with Manhattan College and Hunter College. Kel and I met on the beach and helped with the beach cleanup as we waited on Nat to land and get to the Sea Crest. As we were taking a dip in the ocean to cool off, Nat had found us on the beach! We finally met in person and we got her settled in her cottage she'll be staying in for the month. The good thing about her making it to the island early in the day was that she made it in time for the boat trip this afternoon! First, we got some lunch at CJ's, right on the beach, then we headed to Kel's and got instruction/refresher's for the boat, since it was going to just be us two representing DCP for the next couple of trips. 3 o'clock came around and we were off towards the dolphin grounds! We had high hopes and were both very excited to see some dolphins. A couple hours passed and in the distance we spot a dolphin or two jumping out of the water, seemingly as high as it possibly could, over and over. We closed in on it and it seems to just be one wild spotted dolphin, just zipping around. As we're following this one, a couple more popped up. This time, it was an older pair of C4s with a C2. Cpt Al decided it was worth a shot to get in the water with them and try and collect some videos! I hopped in with half of the students and got a couple minutes of solid footage but they weren't too interested in us and swam out of view shortly. I knew I recognized the older individuals but I'd have to get back to my computer and break the rust off and figure out who these were! As we climbed aboard and were ready to go they were long gone. But we soon found the same crazy dolphin jumping out of the water over and over by himself again, but Al decided it was best to move on to new waters. As we searched we happened upon a small group of bottlenose! We decided it was worth a shot to give it a go, this time the other half of students and Nat got to get in! I was hoping for a great experience for her first taste of swimming with dolphins and collecting footage, but unfortunately they quickly swam out of view. We hopped back on the boat and headed for home. These short encounters today definitely gave us with a good taste of the dolphins, but we're both hoping for some more interactive dolphins tomorrow! We got back from the boat and Kel had us over for dinner and gave us some work to do outside of the boat. We didn't stay too long because we were quite exhausted, so we grabbed our bikes and headed down the road to our beds.
Until tomorrow!
Patrick
_____________________________________________
Although the trip to Bimini encountered many bumps along the road, this beautiful island was well worth the wait. I was scheduled to arrive to Bimini on Sunday to hit the ground running as the new summer intern for the DCP. I unfortunately did not arrive until Monday due to many flight predicaments. On my way from Atlanta to Fort Lauderdale to catch a small plane to Bimini at 3:55 pm, I encountered a four-hour delay with my flight from Atlanta. I boarded the plane at 11:00 that morning and we did not take off until 3:00 in the afternoon. Not only was the plane experiencing some brake malfunctions, but the left engine also needed repairing, (two very important parts of the plane). All the passengers sat on the plane for an extra four hours on top of the two hours of travel time to Fort Lauderdale. Due to the delay, I inevitably missed my flight to Bimini and had to stay the night in Fort Lauderdale to catch a different flight the next morning.
Even though I was not experiencing the best of luck with airlines and airplanes, I decided to look on the bright side to what the next day would hold, and boy did it hold some adventure. Monday morning, I boarded my first seaplane to Bimini at 10:30. The seaplane only contained eight seats and there were only four other passengers besides myself, so there was plenty of room to get a perfect view. The journey over the ocean was absolutely beautiful and the weather was perfect for flying a small aircraft. In just 30 minutes we were landing along the waters of Bimini and unloading baggage onto the dock.
After a short taxi ride, I arrived at the Sea Crest where DCP was completing a beach cleanup. Then after quick introductions and after settling into my temporary home for the next five weeks, I was aboard the boat to go dolphin searching. The other intern, Patrick, showed me the ropes of the boat as well as how to input the data we needed from the boat. After two hours of luxuriously searching on the beautiful blue waters, we finally saw a spotted dolphin jump four feet out of the water. Soon we saw two other spotted dolphins, a mom and a calf, and then two bottlenose dolphins. Then after a long day on the boat we came back to land for dinner and a quick lights out after a long day.
Thanks,
-Nat