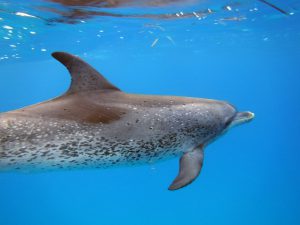 Monday I had hoped to meet the first group of students from Chicago City Day School, aboard the Coral Reef II, but unfortunately they were delayed. I missed our talk, but hope they are having an absolutely fabulous program exploring the water around Bimini. Then, it was on to the Sea Crest, to meet this year's students from Hunter & Manhattan Colleges. I gave them an orientation to DCP's still cameras and slates, which they'll use over the next 10 days, and some tips on how to best photograph dolphins for photo-ID purposes.
Though I didn't join the Hunter/Manhattan boat trip on Monday, I did return to the Sea Crest to give a lecture on photo-identification on Tuesday. It's my favorite topic to teach and this group was great! Then, it was a 1500 boat departure and the day did not disappoint! We first saw dolphins fairly early and were able to observe them, both from the boat and under water, for the whole afternoon. Throughout this time, we saw Niecey (#48) and her calf, then Buster (#04), Split Jaw (#22), Swoosh (#36), Prince William (#64), Inka (#93), Paul (#99), Vee (#101, pictured here), Sulfur (#102) and un-named #107. Tim (#69) and Speedy (#78) may have also been there and I'm hopeful I'll be able to make more IDs from the stills and video as well.
I don't usually write too much about how a dolphin observation "felt" but this trip was one of those that leaves even a seasoned dolphin observer in awe. Different dolphin observations have different qualities: some are calm, some energetic, some have the dolphins doing their own thing, others have the dolphins very curious and interactive with the humans. Tuesday's observations had it all. It was as if every 10 minutes or so, I was transported to a different day, a different group. At one point, four adults simply hovered at the surface, occasionally making physical contact with each other. All I had to do was move my fins occasionally to stay in place and keep them in the camera's view finder. It was a moment in time that reminds me that I'm not just a researcher trying to objectively study another species. I'm an ocean-loving human who is part of the environment, not separate from it. Ah. What a day.
Until next time,
Kel
PS: Remember, you can join me in the field! We only a few spaces left on our fully catered, 5-night, 5-boat trip 26 – 31 August 2018 program. Click here for more details!