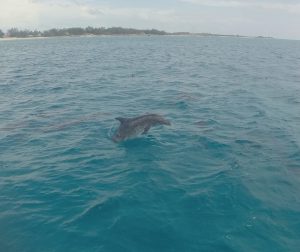 We are so happy to welcome Dr. Stephen Turnbull and students from University of New Brunswick Saint John back to Bimini! It's been a few years since UNBSJ has done a course with us and we're thrilled have to them. This week, all of the DCP blog posts will be written by the UNBSJ students. Enjoy!
-Kel & Nicole
Bimini is the smallest airport we've seen so far. We thought Saint John was small! It was super chill as well. Maybe the maintenance guy was the one helping us? As opposed to Nassau (where Natalia flew threw) which is much more developed and like America. The water in Bimini is so beautiful, flying over was amazing and though those of us who weren't given ear plugs are wondering when we'll get our hearing back! Half of us were delayed in Canada and when we departed Fort Lauderdale we were in the midst of a storm, only to emerge in the sunshine before landing in Bimini.
As we landed on South Bimini, we took the water taxi to North Bimini, where we'll stay at the Sea Crest. Seeing Bimini ahead, getting a glimpse of where we'd be for the next, was great. When we left Saint John we thought it was beautiful – 13C – ha! Those of us who arrived early in the morning were able to head to a snorkel practice at the beach. Startled by a shark…nope! A manta ray! It was huge! Even though Ryan was the closest one, he missed it! Those of us who were delayed hit the ground running devouring lunch with the group so that we could all be ready for our 2:30 p.m. dolphin trip! Kel warned us that it can be a long, boring boat trip searching for dolphins….
Ten minutes after departing: dolphins! At first there were 9 Atlantic spotted dolphins, including 3 calves. One of the calves was quite small and we suspect that two of the adults were males. We watched as those presumed males stayed close to each other and on the outskirts of the group, generally following the mom and calf group. At one point, at least two bottlenose dolphins came through, but they did not really join the spotted group. A few surfaces and then they were gone, as the spotted dolphins traveled south. Soon, the dolphins turned and headed north. Half of us got our gear on to try an underwater observation, but the dolphins kept on moving, so we took our gear off and observed from the boat. Sam was likely most happy to stand down, after sitting in his dry wetsuit in direct sunlight. Hot. Suddenly, the dolphins seemed to turn toward each other and all change direction, headed south again. We wondered why and soon had the answer.
More dolphins! The group size was soon at least 20 spotted dolphins. This was the first time we'd ever seen wild dolphins…this many dolphins, all in one place! We squealed with excitement as we got to follow the dolphins for hours. Included in this group was another calf, with a very distinct notch in its dorsal fin. Kel is so excited to add this to the catalog (a thought that just came to her as we were writing this!). Though the dolphins were still on the move, we decided to give a swim a shot. Since the dolphin group was so big, we all tried to get in. The swim was short, but Kel got some underwater video. Melina saw some bubble rings and play. Ryan saw some mating attempts – socio-sexual behavior? There were also some jellyfish, so some of us dove down and looked at them through the sunlight. One triggerfish cruised through as well. The dolphins were traveling too fast for us to keep us, so we waited a few minutes to see if they would cruise back before climbing aboard the boat. We continued to watch them from the boat, cruising farther from our island home. The captains were watching the time and announced it was time to say goodbye. Two dolphins, Leslie (#80) and presumably her calf, rode the bow for a few minutes. Leslie peeled off first and her calf followed soon after. It was a great way to end the long, first observation!
We headed back to the Sea Crest for showers and supper! After, we did some of our assignments and had a discussion on eco-tourism: what is it? Have we experienced it already? Then: bed.
Until tomorrow,
UNBSJ 2018