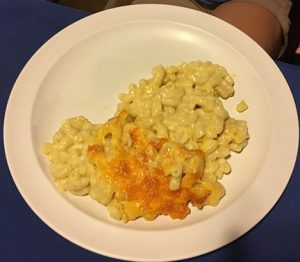 This morning was a lesson in flexibility. We had an interesting morning – we got onto the taxi boat, headed for Bailey's Cay with high hopes for another dolphin observation session. The current had other ideas and refused our landing request. It was the first time ever that Kathleen saw the taxi boat not able to smoothly land against the dock at Bailey's Cay.
So, we came back and had a pre-breakfast nap and then enjoyed a warm leisurely breakfast before we spent the morning analyzing video data to confirm dolphin IDs in the footage from yesterday. We have improved significantly and we've gained confidence in recognizing and confirming individual dolphins from the video footage. It took an hour to code for just 10 minutes of video, which seemed to go by in the blink of an eye. We realize it should take longer to review and code a video but the practice of it was a realization of what it takes.
Lunch preceded a session for each of us to work on our portfolio projects. The portfolios are the students' opportunity to demonstrate their ability to connect the research we read about with their in-the-field experiences and activities.
Our afternoon included a discussion about self-rubbing versus pectoral fin social rubbing contact among dolphins. We learned a bit about what went into collecting and reviewing the data for that DCP paper. Then, we had a dolphin training lecture from Teri Bolton, Assistant Director of RIMS. It was an inspiring and really amazing lecture. We liked how passionate she is about what she does, her work with the dolphins and the other trainers.
We had a group office hours session to discuss our portfolios. We decided to wrap up our field report now because we are about to embark on the AKR Fiesta night and we are anticipating the mac and cheese … Kathleen has really set our expectations high for that portion of the meal!
We hope tomorrow's weather will improve and we are doing a sun dance before dinner, as Kathleen write's this blog for us!
Until tomorrow,
Kathleen, Justin and the URI MMPB team
P.S. As evidenced by today's blog photo, the mac and cheese was delicious!