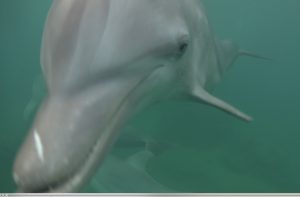 At about 4:30 AM, it sounded like a freight train was speeding by our room(s)! The predicted northern storm front had arrived with a vengeance. Luckily (so far) this is a "dry" front … meaning lots and lots of strong wind but no rain. The last CSU data collection session this morning was cancelled because the winds would have made collecting surface observations very difficult and because the water current would likely have swept Kathleen away (almost)!
Still, the CSU group had a delicious, hearty breakfast followed by a chat about gender roles in science. Then, it was last minute packing and prep for departure.
During the first week with CSU, we collected about 3.5 hours of underwater video data with the dolphins, 14 sessions of fluke stroke per breath for the student project with Bill and Ritchie, and 6 test sessions of the innovate/create sessions with Han, Ritchie, Bill, French, Ronnie, Maury and Poli. We had a very productive week.
About 1.5 hours after the CSU team departed, the URI Animal and Vet. Science group arrived! They'd started the day REALLY early (~01:30 AM) to get to Roatan. Everyone arrived safely and all their bags did, too! These students are enrolled in Dr. R's Marine Mammal Physiology and Behavior "J-term" (January term) course that includes the weeklong lab with DCP/me at AKR/RIMS on Roatan. They've spent the last two weeks with course work and will now apply what they learned to data collection and observations with on the dolphins here.
We had a good start (and these URI students concur with the CSU students' view of the meals at AKR – Delicious!) and hope the wind dies a bit more so we can conduct our first morning session observing the dolphins tomorrow.
Until then, cheers!
Kathleen, Justin and the URI MMPB team!