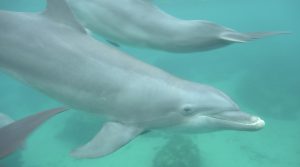 We shifted the morning schedule having a continental breakfast before collecting data at Bailey's Cay. This was because we had our dolphin swim this morning! We got to swim with the dolphins after meeting them during a beach encounter. Shane tried to let Kenna know she had 6 dolphins right next to her but she was just swimming forward looking for dolphins!
Baby dolphin! Baby dolphin! Bailey's calf was all around us swimming but mom was none too pleased that he was curious about the split-fin humans! Cailey completely forgot to try to recognize or ID any of the dolphins when seeing them under water!
It was true that if they did not want to be seen, they were not. We heard their clicks plenty and their whistles but we'd turn around and not see any dolphin. Then at other times, they just appeared right next to one of us or below one of us.
In the gazebo, after data collection and before our encounter, we chatted about physiology and metabolism.
Of course, the highlight of our mid-day was lunch! We thoroughly enjoyed a hearty lunch after swimming against a current when observing the dolphins during our encounter and swims.
Our afternoon had Kenna, Julia and Serena helping with data collection for the innovate/create study and the rest of us observed the male dolphin subgroups in the back areas as comparison to the early morning surface observations.
The afternoon wrapped up with a classroom discussion on behavioral observations. We learned how behavioral observations should be conducted – for data collection, analyses and then internal and external validation applications.
All in all, it was a great day … punctuated by much rain, again. Supposedly the sun is planning to visit us tomorrow. Let's hope so!
Until tomorrow,
Lauren (#1), Kenna, Caitlyn, Lauren (#2), Casey, Julia, Serena, Delaney, Cailey, Macy (like the store), and Chandra (the CSU crew) with supporting roles from Shane, Kathleen, Heather, Dee, & Maria
P.S. my apologies to Delaney's mom for misspelling your daughter's name on the first few entries.
P.S.S. we were not impacted by the earthquake earlier tonight. Thank you for your thoughts and concerns.