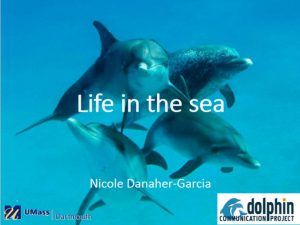 DCP Master's student Nicole Danaher-Garcia shares her experience presenting to an awesome New Bedford, MA middle school. Enjoy!
____________________________
On Tuesday, December 19th, I visited a local New Bedford, MA, middle school, having been invited by the Head of School to present to her students. The school, called Our Sisters' School, is pretty unique. It is a not-for-profit private school with only four classes, one in each grade 5-8. The school only accepts low-income girls from the New Bedford area, and each student must be very motivated since the school-day is 11 hours long! The head of the school calls this having "the eye of the tiger." And it was very noticeable that these girls are excited to learn. They were all smiles from the moment I stepped into the room, and became even more excited when I began talking about dolphins.
Before diving into the more scientific part of my presentation, I told the girls about how I got to where I am. I really wanted to impress upon them that there are tons of people out there who are willing to help and provide opportunities; all it takes is a simple email to get the ball rolling. That's how it was for me—after discovering DCP, it was a single email to Kathleen Dudzinski that opened the door for me to become a volunteer, then an intern, then a field assistant, and now a student with her own project. I hope that my story really inspired the girls to keep their eyes open for opportunities and to jump at them when they appear.
After my brief personal history, I taught the girls a Word of the Day (a requirement of Morning Speaker presentations). My word was "cetaceans," the term that encompasses whales, dolphins and porpoises. I then briefly described my focal species (the Atlantic spotted dolphin), how to determine dolphin sex and age, some of the threats that dolphins face in the wild, as well as how behavioral research can help humans mitigate those threats. The students were so engaged, asking so many questions and offering comments. I felt as if I could have talked with them all day, so much so that I ran over my time-allotment!
I'm so happy I was presented with the opportunity to engage with local students, and especially grateful to have had the chance to motivate them about dolphins and scientific research. I hope to have similar opportunities in the future, and I plan to tell my UMass Dartmouth peers about my presentation in the hopes that they will be interested in sharing their stories with these girls (and maybe other local students).
Until next time,
Nicole