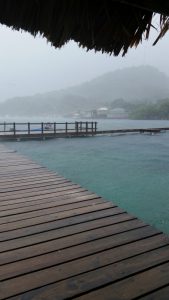 The day was bright but very windy with rain squalls throughout the morning. Actually, it poured all night and we woke to a sort of tapering off of the rain. The underwater visibility did not look half bad when we took a reconnaissance trek to Bailey's Key. (Hard to tell in this view since the rain is rather hard!) The morning had some very choppy water on the way to Bailey's, though the afternoon showed a lessening of the wave height. That all said, the underwater current was quite strong and thus I did not get in to collect any underwater data today. We had a very productive week with more than 6 hours of video data collected! (double that amount actually with use of our GoPro and the AX100 in the MVA2).
We did go watch the dolphins from the surface several times today. And, we got a chance to chat with Eldon and Teri about our research and other projects. Everyone in our group was able to do some souvenir shopping, pack up gear and relax during the afternoon. We all got together for our last supper together, though trying to get everyone together for a group photo proved too much for the group! We only missed 3 folks in one image … but I was able to get several subgroup pictures to make a collage (eventually) of the whole group. I guess you could say we were mirroring dolphin society tonight with our "fission-fusion" activity! Thank you to everyone who joined me this week!
This was a great group and a very productive week! Thank you all for your enthusiasm and support! Tomorrow is our travel day home. Have a great weekend!
Cheers
Kathleen