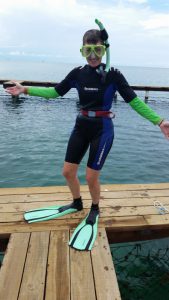 A rainy night dawned to cloudy, overcast skies that suggested the water visibility would be … murky, to be nice! But, the underwater visibility turned out to be not too bad! The adult males were outside the main pool area. So, our early AM (6:30 AM!) data collection session was focused on the adult females and juveniles and calves. It was a delight to watch Dory, Stan and Shawn, the one-year olds, zip around each other in a sort of tag while their moms stayed close by. It was fun to review the dolphin behavior we witnessed with Heather and Dee and our students as well as Regina, Marsha, Corrine, Donna and Brittany.
Calli and Polly took up the typical role that Ronnie, French, Lenca and Champ held. That is, they ushered me around the pool as cetacean escorts and played with my fins. It was a nice welcome to have Calli, Polly, Elli and the calves circle around and whistle with delight.
While a few of our group were helping me collect data on the dolphins at Bailey's Key, our divers observed a wild group of dolphins just outside the reef. Their dives were good overall. Those that snorkeled also had a good time and saw squirrel fish, a few squid, needlefish, and many more critters.
Our afternoon wrapped up with some photo-ID video confirmation of the dolphin rake marks and watching the video to see the dolphins again!
A good day!!
Tomorrow begins at 6:15!
Cheers
Kathleen
P.S. the photo was taken by Heather of me after a successful session!