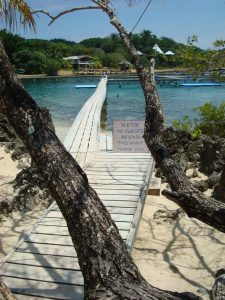 We all arrived Saturday afternoon after relatively short flights and a REALLY long line through immigration. But, we arrived to Anthony's Key Resort and all settled in nicely! Our group is the biggest one DCP has ever had! Our team includes diehard DCP supporters Bill, Ron, John; DCP fellow researchers Heather and Dee; DCP student collaborators Riley and Erin; past DCP student Brittany; and new DCP participant supporters Butch, Corrine, Debbie, Donna, Frank, Marjorie, Marsha, Regina, Ron, Russell, and Sonia.
We all look forward to a great week of dolphin observations and scuba diving and snorkeling, as well as maybe some interesting discussions and fun times!
Cheers
Kathleen
P.S. this photo shows the dock walk toward dolphin observations – hurray!