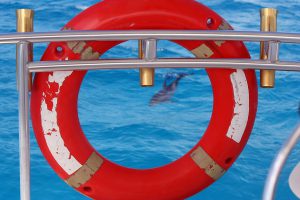 After spending so much of this summer referring to "The Trio" (Patrick, Kaiya and Tori, our summer interns), it was hard not think of them as I spent a nice portion of the afternoon observing three Atlantic spotted dolphins! I was able to complete trip #43 of the season with Bimini Adventures, once again joining a visiting research team. Since this team was focused on bow riding dolphins, I knew the day would only bring surface observations. Still, it was worth it!
We followed this trio of as-yet unidentified dolphins through the waves as the winds and seas picked up slightly throughout the day. At times they seemed to be traveling, but as I looked toward shore, we never really went anywhere! There were quite a few fluke slaps and aerial displays, which left us wondering if the dolphin was frustrated or showing off. Soon, we realized that maybe it was neither; maybe it was all about the pesky remora!
It was a pleasure joining the trip and even lending a hand. As the summer winds down, I'm always left wondering: Was today the trip of the season?
Stay tuned,
Kel